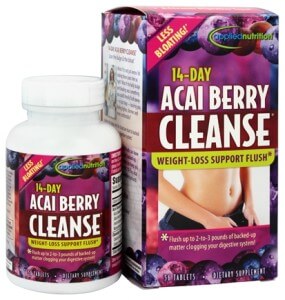 In my never-ending quest to discover the best diet product, this week I reviewed 14-Day Acai Berry Cleanse. We decided to take an in-depth look at the ingredients, side effects, scientific data, and customer service quality. We also read as many reviews online as we could. Then we choose to summarize the information to give you the bottom line.
What is the 14-Day Acai Berry Cleanse?
First off, the 14-Day Acai Berry Cleanse is a program designed to clean out your digestive system to promote regularity and relieve bloating. It contains a variety of ingredients including blueberry, mangosteen, pomegranate, lychee and acai. You take four daily, two before breakfast and the same prior to bedtime. The bottle is just small enough to travel with ease.
This product has been around since 2011 and it has some good ingredients. The 14-Day Acai Berry Cleanse is readily available in health stores and online, which makes getting it quick and easy, but read on…
Health Concerns – "Uh oh?"
The first concern with the 14-Day Acai Berry Cleanse ingredients is potential health concerns. "This product is affordable and easy to find, but the health concerns, as reported by some users, may outweigh any positives," says our Research Editor.
"I missed three days of work due to the gastrointestinal distress this product cause," said one user.
"I had to go to the hospital for dehydration after the first week," offered another dieter.
"I lost some water weight, but the stomach issues that this caused weren't worth it," was another comment.
Scroll below for one of the best products we've seen over the last year.
Taste – "Another Concern"
Something else that numerous users complained about was the somewhat bitter taste. One 14-Day Acai Berry Cleanse user stated "I had to plug my nose while taking this, but once I got it down, I was fine."
"I liked the results, but I didn't like the taste," said another.
Throughout our research, we've found that if there's something that's particularly difficult or troublesome about a diet supplement (cost, health concerns, pain, etc.) that long-term success is difficult to attain. If the 14-Day Acai Berry Cleanse really does taste bad to some users, this could be an issue.
The Science – "Evidence?"
There isn't much scientific data proving that cleanses are effective. At DietSpotlight, we like products that have plenty of published research about ingredients. When this information is missing, it can be a red flag.
The Bottom Line – Does 14-Day Acai Berry Cleanse Work?
So, we're ready to give you all the facts on this one. There were several things about the 14 day Acai Berry Cleanse that we appreciated, like the low cost and availability, but we don't feel entirely comfortable suggesting a product that may cause health concerns. We're also concerned about the taste and lack of scientific results.
If you're still looking to lose some weight, we suggest trying out a supplement that supports healthy weight-loss without the health concerns or bad taste. We also suggest a product that has scientific research and clinical studies that prove that it works better than diet and moderate exercise alone.
Among the best products we've seen in 2016 is one called Leptigen. The formula contains a proprietary mix of four ingredients that have clinical studies and scientific research proving that it is more effective than a placebo at helping to boost fat loss and an improve metabolism. The comments online show plenty of users that have seen good results and we haven't been able to find any negative implications of taking it.
Also, Leptigen's makers are offering a Special Trial Offer, this is a good sign of confidence in the formula.