Updated: 09/29/2015 - Sponsored by Leptigen
14-Day Acai Berry Cleanse Review - Does This Diet Cleanse System Work?
Are health concerns and taste deal breakers?
PUBLISHED: 09/12/2015 | BY: SUMMER BANKS, SENIOR REVIEWER
Editor
's Review:
2.9
/ 5.0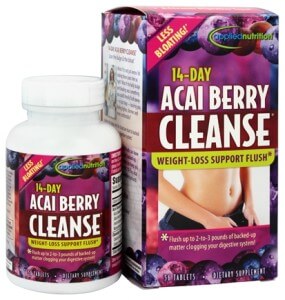 We've been hearing a lot of talk about the 14 Day Acai Berry Cleanse lately, so we decided to take an in-depth look at the ingredients, side effects, scientific data, and customer service quality. We also read as many reviews online as we could to summarize the information to allow our readers to make an informed decision.
EDITOR'S TIP:
Combine 14-Day Acai Berry Cleanse with a proven fat burner such as
Leptigen
for better results.
What You Need to Know
The 14 Day Acai Berry Cleanse is a 14 day cleanse designed to clean out your digestive system to promote regularity and relieve bloating. This cleanse contains a variety of ingredients including blueberry, mangosteen, pomegranate, lychee, and acai. These ingredients contain antioxidants that help cleanse your body and help lose the water weight that your body has been hanging on to.
This product has been around since 2011, and it has some good ingredients. The product is easy to find online, and is an affordable diet supplement. The 14 day acai berry cleanse is readily available in health stores and online, which makes getting this product quick and easy, but read on…
Health Concerns– "Uh oh"
The primary concern with the 14 day acai berry cleanse is short and long term health concerns. "I missed three days of work due to the gastrointestinal distress this product cause," said one user. Our research editor confirmed "This product is affordable and easy to find, but the health concerns outweigh the benefits."
"I had to go to the hospital for dehydration after the first week," said another dieter.
"I lost some water weight, but the stomach issues that this caused weren't worth it," was another comment. Comments like these were common in the reviews online. While some reviews were positive, health concerns were a recurring theme among reviewers.
Scroll below for one of the best products we've seen in 2015.
Taste – Another Concern
Something else that some users complained about was the somewhat bitter taste. One 14 day acai berry cleanse user stated "I had to plug my nose while taking this, but once I got it down, I was fine."
"I liked the results, but I didn't like the taste," said another. Some people mix the drink with flavored water to mask the taste, and that seemed to work. "I used lightly flavored water, or flavor drops in my water to improve the taste, and that worked great," said one person who lost 7 pounds with Acai Berry.
Throughout our research, we've found that if there's something that particularly difficult or troublesome about a diet supplement or diet (bad taste, cost, health concerns, pain, etc.) that long-term success is difficult to attain. If the 14 day acai berry cleanse really does taste bad to some users, this could be an issue.
If you do want to try this cleanse, we recommend you find a flavored water or another ingredient to improve the taste.
The Science
There isn't much scientific data proving that cleanses are affective. At Dietspotlight, we like products that have plenty of published research about the ingredients in a product, including clinical studies that prove the product works better than diet and exercise along. When this information is missing, it can be a red flag that the product may be missing something.
The Bottom Line
This cleanse was an exciting review for us initially due to the popularity that this fad has attained recently, but in the end we were disappointed. There were several things about the 14 day Acai Berry Cleanse that we liked, such as the convenience, low cost, and easy availability, but we can't get passed the health concerns, taste, and lack of scientific results.
If you're still looking to lose some weight, we suggest you find a supplement that provides healthy weight loss without the health concerns or bad taste. We also suggest a product that has scientific research and clinical studies that prove that it works better than diet and moderate exercise alone. It can be difficult to find a product that has all these things, but in 2015, the innovations that have been made in the diet and weight loss industry have allowed companies to introduce products that boost weight loss and improve your metabolism.
One of our favorite products from 2015, is a product called Leptigen. Leptigen contains a proprietary mix of four ingredients that have clinical studies and scientific research proving that it is more effective than a placebo accompanied by diet and exercise alone. We've looked at the reviews for this product online, and were unable to find any negative side effects. The reviews offer mostly positive comments about the boosted fat loss and an improved metabolism. The comments online have plenty of users that have seen good results, and we haven't been able to find any negative implications of taking Leptigen,
Leptigen's makers are offering a special trial offer, which shows that they're confident in their product. This is a good sign that the product works, and it's encouraging to see a company that takes pride in their product.