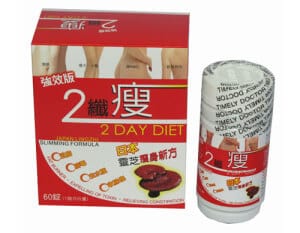 Don't laugh, but well over 50% of diet products simply don't work. So what about 2 Day Diet Japan Lingzhi? We at DietSpotlight conducted an in-depth review, looking closely at the ingredients, side effects, scientific research and level of customer care. Furthermore, we scanned dozens of user comments we found posted on the internet. At last, we summed up everything in order to give you the bottom line.
What You Need To Know
To start, 2 Day Diet Japan Lingzhi is a Japanese weight-loss pill that is available online without a prescription. The formula contains ebony, wheat germ, lingzhi, dioscoreae, fox nut, seman purni and tuckahoe. This product is mainly marketed at women and it's supposed to be 100 percent natural. Put simply, it is supposed to burn off excess body fat and specifically target problem areas, such as the tummy, thighs, buttocks and upper arms. 2 Day Diet Japan Lingzhi should be taken once each morning prior to breakfast (1-2 capsules).
2 Day Diet Japan Lingzhi has been available since at least 2010 and it can be purchased via the official website. There are some success stories posted on the main website and a helpful FAQ section is provided as well, but read on…
FDA Warning – "Is This Pill Even Safe?"
Our first concern with 2 Day Diet Japan Lingzhi ingredients is the actual safety. "We discovered an FDA warning about this product and a hidden ingredient it contains called sibutramine. This is a controlled substance that can lead to serious health problems," says our Research Editor.
One customer commented, "I tried it and my heart rate increased. I then felt warm on the left side of my chest!"
According to drugs.com, "Sibutramine was withdrawn from the US market back in 2010, because it can lead to serious health problems and side effects."
Scroll below for one of the best products we've seen over the last year.
Side Effects – "An Issue?"
There are numerous customer complaints regarding 2 Day Diet Japan Lingzh side effects. In fact, one user stated, "Took it and did not sleep well. 2nd day did the same, coffee, egg…this day I felt nervous energy, was irritable, over stimulated, heart racing, dizzy, did not sleep well."
"Please do not take these. I am a young, healthy 26-year-old…and I had heart issues," revealed another customer.
Our research has proven if there is some particular aspect of a diet pill or weight-loss supplement that is very troublesome or difficult (FDA warning, side effects, high price) the likelihood of real success for the long run is minimal. So, if 2 Day Diet Japan Lingzhi causes adverse reactions in a lot of people, this could definitely be a serious problem.
The Science – "Is There Any?"
We took a close look at the official website for 2 Day Diet Japan Lingzhi and there is no real science presented to support the claims. While the ingredients are explained, we at DietSpotlight need to see some actual clinical research that supports the weight-loss pill and its ingredients.
The Bottom Line – Does 2 Day Diet Japan Lingzhi Work?
So, should you spend your hard-earned money on 2 Day Diet Japan Lingzhi? Well, we do like that this weight-loss formula is 100 percent natural and it's easy to purchase online through several dealers. But we have some reservations about it because it's not actually supported by any real science. Moreover, we're concerned about a hidden ingredient that may be used in this product, as well as the side effects it can lead to.
If you'd like to shed more pounds, then we encourage you to go with a diet product that contains clinically proven ingredients, does not lead to harsh side effects and is not under any scrutiny by the FDA.
Among the best products we've seen in 2016 is one called Leptigen. This supplement uses a proprietary combination of four key ingredients, which have been proven in documented clinical research to help speed up fat loss and kick-start metabolism. You should be aware that we can't find any complaints of harmful adverse effects and customer comments around the web reveal people are seeing significant results.
The makers of Leptigen are so sure about their product they're offering a Special Trial Offer, which is a positive sign.