Updated: 10/06/2015 - Sponsored by Leptigen
24 Day Challenge Review - Does This Weight Loss System Actually Work?
Are steep price and dieter complaints deal breakers?
PUBLISHED: 09/11/2015 | BY: SUMMER BANKS, SENIOR REVIEWER
Editor
's Review:
3.5
/ 5.0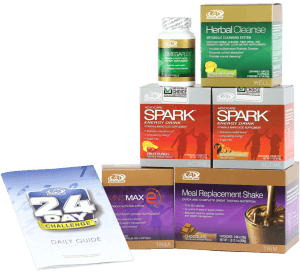 There has been plenty of discussion about 24-Day Challenge for weight loss, so we decided to write a detailed review, focusing closely on the side effects, ingredients, scientific research and customer-service quality. We also sorted through countless user comments and customer reviews from all over the web. At this point we compacted all of the facts and dieter feedback we found to give you the bottom line.
EDITOR'S TIP:
Combine 24 Day Challenge with a proven fat burner such as
Leptigen
for better results.
What You Need To Know
The 24-Day Challenge is a "comprehensive supplementation and nutrition program" that is suitable for people of all body types. This program is available from AdvoCare. The primary purpose of this challenge is to help you jumpstart your body so you can reach your weight loss goals. This program involves six different supplements and a 24-Day Challenge Daily Guide. The supplements are; Herbal Cleanse, AdvoCare Fiber, OmegaPlex, AdvoCare Spark, Meal Replacement Shakes and MNS 3, C or E.
AdvoCare was founded back in 1993, and the 24-Day Challenge was released around 2013. The official website has some customer testimonials, as well as a helpful FAQ section to assist dieters, but read on…
Steep Price Tag
"First off, the actual price of the 24-Day Challenge supplement bundle is not presented on the website at all. However, we did find it on distributor websites such as Amazon, and the cost is high at $189 (plus $7.49 for shipping)," says our Research Editor.
One dieter stated, "I could have achieved my goals (like I have done many times before) without shelling out $200+."
Another user offered, "Did not help at all! What a waste of money."
Scroll below for one of the best products we've seen in 2015.
Dieter Complaints!
There are many customer complaints posted online for the 24-Day Challenge. Just take a look at distributor websites like Amazon. One customer commented, "I did not lose any weight. I did have more energy, but I also had very sever headaches."
According to another dieter, "Followed all the instructions. only lost 5 pound total. DO NOT WASTE YOUR MONEY."
Our research has proven that if there is a certain facet of a diet program or weight loss pill that is very bothersome (too many user complaints, high cost, pills that make your jittery) the actual likelihood of fat loss for the long run is minimal. So, if the 24-Day Challenge does result in too many dieter complaints, this could be a major concern.
The Science
While there is "science" mentioned on the official website, we did not find any actual clinical studies presented. The website talks about "safe and effective ingredients," but does not elaborate on how they are effective for weight reduction. We at DietSpotlight need to see documented scientific research that supports the weight loss product and the ingredients it contains.
The Bottom Line
First of all, it's nice to see that this company has been around for many years. On the other hand, we would not recommend spending nearly $200 on the 24-Day Challenge supplements. There is really no evidence that this program works and there are plenty of customer complaints that say it doesn't. Also, this diet program requires you to take a lot of pills every day.
If you really want to get started dropping more pounds of fat, then we suggest you go with a weight loss program or diet supplement that is backed by real science and won't break your bank account.
Among the most impressive diet products we've encountered in 2015 is Leptigen. This supplement uses a proprietary combination of four ingredients, which have been proven in published clinical studies to kick-start metabolism and encourage fat loss. Moreover, we haven't found any customer complaints of harmful adverse effects and user comments posted online reveal people are seeing solid results.
Also, the makers of Leptigen are so confident in their product they're offering a special trial offer, which is a good sign.