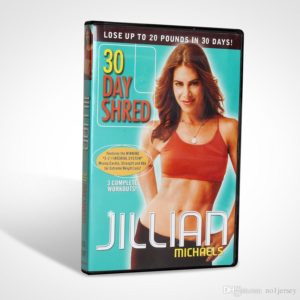 Give me just two minutes of your time and I'll tell you whether or not the 30 Day Shred is worth your time. We checked out the exercises, side effects, clinical support and customer service. We also read as many user reviews as we could find. Then, we summed it all up to give you the bottom line.
What is the 30 Day Shred?
First off, the 30 Day Shred is a workout DVD from Jillian Michaels, celebrity trainer. According to the fitness guru, "you can lose up to 20 pounds in 30 days" using this one 20-minute program. You will need a set of hand weights and a mat if you have harder floors. There are three exercise routines included.
The program was created by Jillian Michaels in 2008. It is available on websites like Amazon and her official website. We like that the workouts are short and it costs far less than many comparable options, but read on…
Pain – "Is This Gonna Hurt?"
The first issue we found with 30 Day Shred was pain. "Working out is all about making your body healthier and burning more calories," says our Research Editor. "It's not about pain or injury."
"I always experienced severe pain after the routine… even after replacing this workout for an entire month," said one user.
Another shared, "I'm not sure every person who experiences knee pain after this DVD is to blame for improper form."
On the other side of the discussion, some felt there were small issues that led to the pain.
"When you're exercising watch your form to make sure you're not injuring yourself. After I did this my knee pain went away and I'm all good," was one suggestion.
One more said, "Calves are still sore, but not crazy sore like the first 2 days. I slapped some Tiger Balm on my knees beforehand along with wearing a knee brace on my left knee. It was great! I could get through the workout without a whole lot of pain."
Scroll below for one of the best products we've seen over the last year.
Injury – "Is it Safe?"
Another issue we stumbled upon was reports of injuries. There were more than a few in the reviews we read.
"Every time I do this work out, I inevitably end up with some kind of injury, either my knee or my back," was one experience.
As another user said, "I think the repetitive movements in the video caused inflammation and rather than stopping and letting them calm down, I kept pushing myself and it resulted in injury."
Others didn't notice any issue with injuries with modification.
"I have a very weak knee from an injury, and I am finding that doing this workout at a slower modified pace and stretching level 1 out to 1 month instead of 1 week, and following everything Jillian says about how to position the knees so as not to hurt them, my weak knee is actually being strengthened," one user offered.
A viewer also said, "I think doing these every day will backfire on you and sabotage results unless you are already really strong and in tip top shape. The last thing you need is injury or burn out half way through."
The Science – "Any Real Proof?"
At DietSpotlight, it's the science that seals the deal, either way. In this case, there is evidence that exercise is healthy and a critical part of weight-loss. That doesn't mean the 30 Day Shred is any more effective than walking or using another DVD.
The Bottom Line – Does the 30 Day Shred Work?
Have we already decided to order the 30 Day Shred? Well, we like that Jillian Michaels supports exercise for weight-loss, but we're skeptical about recommending this specific workout. There are reports of pain and injury that we can't just dismiss. Plus, it was created in 2008 and advances have been made in the years since then.
If you want to use exercise to boost weight-loss that is an excellent option. But, you may want to add a supplement that's shown to help boost metabolism and fat loss in the process.
Among the best products we've seen in 2016 is one called Leptigen. It's formulated with four, strong ingredients backed by clinical testing. User reviews are out of this world and we found no reports of harmful side effects.
It's also amazing that the makers are so confident in the formula that they're offering a Special Trial Offer.