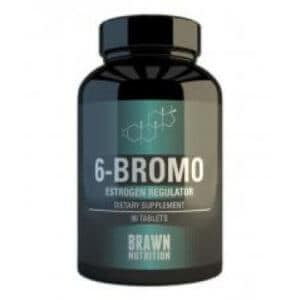 gThe results of my research of 6-Bromo was quite surprising! We took an in-depth look at the ingredients, side effects and clinical research. Additionally, we examined hundreds of user reviews and forum posts. Then, we summarized and refined to give you the info you need.
EDITOR'S TIP:
Click here
to combine 6 Bromo with a proven testosterone booster such as Pronabolin for better results.
What is 6-Bromo?
Firstly, 6-Bromo is a hormone inhibitor for extreme bodybuilders who use anabolic steroids. The ingredients include 6-bromo-3-(ethoxycarbonyl)-2-methylbenzo[b]furan-5-yl morpholine-4-carboxylate. After taking as directed, it supposedly blocks estrogen levels.
Considering 6-Bromo is an ingredient, several companies use it in their respective formulas. Online retailers and supplement stores sell it. We like that we found some positive customer comments and that it seems affordable, but read on…
6-Bromo Side Effects – "Concerning!"
The first concern was 6-Bromo side effects. "The main purpose of this one is to inhibit the return of estrogen after a cycle of steroids," said our Research Editor. "There's a possibility adverse reactions could occur if users don't seek the advise of their physician."
"Shortly after starting this supplement, I began to feel sleepy all the time. Even after 8 hours of sleep." said one user.
"Tried to boost muscle mass, ended up with stomach pains," stated another.
According to some 6-Bromo reviews, not everyone felt the same way.
"I found that my post cycle therapy went much smoother, I built muscle mass as I wanted, and just felt great," stated a customer.
"I had a bit of transition when first starting 6-Bromo. But after a couple of weeks, it was going much easier," said a user.
Scroll below for one of the best products we've seen over the last year.
Lack of Results – "Any Changes?"
Based on 6-Bromo reviews we found, lack of results was a concern. "I don't see any benefits from taking 6-Bromo," said a customer.
"Unless you're trying to compete as a bodybuilder, there's no point in buying this product," reported another.
While some didn't notice results, others did see positive changes after using 6-Bromo.
"This is a great product for getting the most out of the initial weight loss. I lost water weight much faster," said a consumer.
"I'm not a casual dieter, but I'm not a hardcore bodybuilder either. I still think it's worth the investment," reported a customer.
Over the years, we've found it takes a small thing like lack of results, to stop any chances of long-term success. If 6-Bromo causes adverse reactions, there's an issue.
The Science – "Any Research?"
We wanted to know if there's research available to back the claims of 6-Bromo. While there are studies backing the claims, any results were performed in a lab and not on humans. This alone is a big red flag. At DietSpotlight, science is an important part of the review process. When there are no science-based facts used as evidence, we become concerned.
The Bottom Line – Does 6-Bromo Work?
What's the real deal with 6-Bromo? While we like that we found some positive customer comments and that it's readily available, the lack of research connecting it to boosting testosterone or building muscle is concerning. Also, we're hesitant about this one due to reviews talking about lack of results and negative side effects.
Testosterone levels lower with age, but there are supplements our there that can help. You may want to consider one that's backed by research, supported by positive customer comments and not linked to harmful side effects.
Among the best products we've seen in 2016 is one called Pronabolin. It is made with a blend of nine clinically-tested ingredients which have been shown to help increase muscle strength, vitality and energy; all being essential to boosting testosterone levels. There's no one talking about harmful side effects, but users are excited about seeing excellent results.
Also, the company behind Pronabolin is so confident in their supplement that they're offering a 120-day money-back guarantee and a multi-bottle discount.