Updated: 09/29/2015 - Sponsored by Leptigen
7 Day Weight Loss Pill Review - Does This Diet Supplement Really Work?
Are lack of science and side effects deal breakers?
PUBLISHED: 09/01/2015 | BY: SUMMER BANKS, SENIOR REVIEWER
Editor
's Review:
3.5
/ 5.0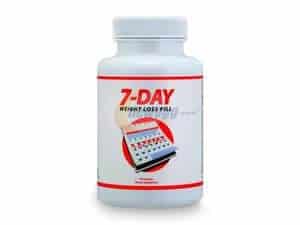 There's been a lot of buzz regarding the 7 Day Weight Loss Pill, so we created an in-depth review, examining the side effects, ingredients, clinical studies and overall customer service. Moreover, we checked out dozens of dieter comments and user reviews found on the web. At this point, we summed up this data to give you the important facts.
EDITOR'S TIP:
Combine 7 Day Weight Loss Pill with a proven fat burner such as
Leptigen
for better results.
What You Need To Know
The 7 Day Weight Loss Pill is available on the official website for $19.95. This diet product contains the following ingredients; Wild Mint Leaf, Cumin Seed, Olive Leaf, Juniper Berry, Green Coffee Bean, Caffeine Anhydrous, Cissus Quadrangularis, Irvingia Gabonensis, Lactobacillus Acidophilus, Uva Ursi, Senna Leaf, Dandelion Root, Chromium and Magnesium. Put simply, the 7 Day Weight Loss Pill is taken twice a day for seven days (four capsules 30 minutes prior to breakfast and lunch). Plenty of water should be consumed as well. This product is claimed to naturally detoxify the body, keep your appetite in check and burn off belly fat.
The 7 Day Weight Loss Pill emerged in 2013, and can be obtained through the website with ease. Furthermore, this diet pill is backed by a 90-day satisfaction guarantee, and a few before and after photos are posted on the website, but read on…
No Clinical Proof
According to our research editor, "There is no actual clinical proof showing that the 7 Day Weight Loss Pill is effective for fat-loss and will cause 10 pounds of weight loss in only seven days, as claimed."
"I absolutely lost no weight, not even any inches, I won't be buying this product again," said one dieter.
Another commented, "This stuff does not work. Don't waste your money. I wish I could get my money back for this product."
Scroll below for one of the best products we've seen in 2015.
Side Effects – Be Careful!
According to a lot of dieters who've tried the 7 Day Weight Loss Pill, side effects are pretty common. In fact, one user stated, "Gave me jitters and made me SICK!"
One more customer complained, "Took this pill and now feel terrible."
The research we've done has revealed if there is a specific aspect of a diet program or supplement that is very problematic (bad side effects, no clinical studies, high price) the likelihood of real results for the long term is minimal. So, if the 7 Day Weight Loss Pill does lead to side effects in lot of people, this could prove to be a serious problem.
The Science
Even though the official website emphasizes the effectiveness of the 7 Day Weight Loss Pill, no scientific research is posted to support this diet supplement. For us at DietSpotlight, locating actual clinical research regarding the product and its ingredients is imperative.
The Bottom Line
We appreciate the concept of a weight loss pill only being used for seven days, but we certainly don't recommend the 7 Day Weight Loss Pill. First of all, there is no clinical research to support this diet product, and there are plenty of negative user reviews posted online. The fact that this supplement is only used for one week is also concerning.
For those interested in seeing fast weight loss results, we recommend you go with a weight loss supplement that is backed by actual clinical research and gives you a little more bang for your buck.
Among the most promising products we've spotted in 2015 is one called Leptigen. This weight loss supplement contains four key ingredients, which have been shown in documented clinical research to improve fat loss and elevate metabolism. Also, we can't find any dieter feedback concerning harmful side effects and user reviews posted on the web express people are seeing awesome results.
Also, the makers of Leptigen are so confident in their product they're offering a special trial offer, which is a good sign.