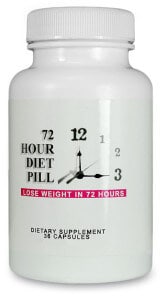 I'm here to cut through the noise and get you to the bottom line on 72 Hour Slimming Pill. We dove into the side effects, ingredients, customer service and scientific research. We checked everywhere for user reviews. Then, we refined it all to give you the bottom line.
EDITOR'S TIP:
Substitute 72 Hour Slimming Pill with a proven fat burner such as
Leptigen
for better results.
What is 72 Hour Slimming Pill?
First, 72 Hour Slimming Pill is a weight-loss supplement with dandelion root, uva ursi, buchu, juniper berry, cornsilk, couch grass, parsley, stinging nettle, cranberry, cayenne, ginger and milk thistle. Within three days you're supposed to notice increased energy, weight-loss and fat loss. You take six capsules daily, 30 minutes before breakfast and again at lunch.
Though we found no information on the company that makes 72 Hour Slimming Pill, some websites claim it is Doakes Nutraceuticals, LLC out of Utah. You can buy it on Amazon, but we did not find an official website. We like the natural ingredients and some people mention regularity, but read on…
Results – "Lacking for Some"
Our first consideration is with the effectiveness of 72 Hour Slimming Pill ingredients. "Any product that claims you can lose a substantial amount of weight in just three days is bound to be stretching the truth," says our Research Editor.
As one user put it, "I bought this product because I have a few pounds I needed to lose for a birthday party…Was very disappointed in it."
"Took this product according to instructions on label, LOL I actually gained two (2) extra pounds," said another.
One person who lost said, "The product worked…well and I lost a few pounds."
Scroll below for one of the best products we've seen over the last year.
Side Effects – "Worrisome?"
We found reports of 72 Hour Slimming Pill side effects and others that said nothing of the sort happened.
A customer said, "It gave me a headache towards the end of the day."
One who did not notice the same offered, "As for the pills themselves, no side effects, no jitters and wasn't starving."
It's with years of research behind us that we can say it takes a small thing, like a headache, to lessen any chance of long-term results. If 72 Hour Slimming Pill does cause some side effects, that could be a deal breaker.
The Science – "Validated?"
Looking at the ingredients in 72 Hour Slimming Pill, we can say with confidence that none are specifically connected with weight-loss. Some are diuretics, which could account for water loss, but that's about it. Here at DietSpotlight, we need clinical research to say a product does work, but there's none with this formula.
The Bottom Line – Does 72 Hour Slimming Pill Work?
Have we already placed an order? Well, we like the natural ingredients and if you're suffering from water retention, this could help, but we have reservations about it. There's no clinical support for any weight-loss claims and there are reports of ineffectiveness and side effects.
If it's time to lose that extra weight, we suggest skipping the diuretics and choosing a supplement that's made with scientifically tested ingredients and backed by some amazing testimonials.
Among the best products we've seen in 2016 is one called Leptigen. The proprietary blend contains four ingredients that have been clinically tested and shown to help with metabolism and fat loss. We found tons of users who've lost weight on the formula and the price is right.
Plus, it's with confidence that the makers of Leptigen are offering a Special Trial Offer.