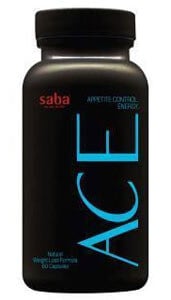 We're all searching for the right diet product. We've heard rumblings about ACE, so we concentrated on the ingredients, side effects, scientific research and customer support. Furthermore, we picked apart hundreds of consumer reviews and comments. We then summarized and refined to give you the info you need
What You Need to Know
First off, ACE is a dietary supplement containing chromium, garcinia cambogia, green coffee bean, konjac, l-carnitine, phenylethylamine, raspberry ketones, saffron extract, vanadium, and B-vitamins. The recommended dose is one capsule, once per day, which supposedly increases weight-loss. One of the benefits is ease of use.
The product, introduced as a weight-loss supplement in 2001 by AMS Health Sciences, appears to use some natural ingredients, a good start. It's available on the official website and through trusted retailers. We do like that the company has a strong foothold in the industry and there are some favorable customer comments, but read on…
Ineffectiveness – "Not the Same Formula?"
The first concern we had regarding ACE ingredients was ineffectiveness. "When a company touts its formula as one of the best in the industry, customers want proof," says our Research Editor. "If a supplement doesn't live up to promises, consumers will run away and never look back."
"This 'new and improved' formula lacks the appetite control and energy the original formula held. Disappointed," said one user.
"It was not exactly what I hoped it was going to be, didn't curb appetite or give energy for me," commented another.
You have to look at the whole story, so we needed to offer up some positive experiences as well. According to one dieter, "It does seem to control my appetite while at the same time increasing energy."
Another didn't necessarily dislike ACE, "The new formula doesn't give you the energy as the old but I have been able to maintain my weight."
Scroll below for one of the best products we've seen over the last year.
FDA Judgments – "A Major Concern"
In July 2014 the FDA sent a warning letter to AMS Health Sciences, the company behind ACE. The statement claimed the website marketed supplements as drugs, which is illegal. It appears all violations have since been resolved.
Side Effects – "Worrisome?"
According to multiple complaints, ACE ingredients cause side effects. "About an hour after taking them I had became dizzy and nauseous," said a customer.
"I was taking only 1 pill a day also made my heart flutter. I will not be using this anymore," commented a dieter.
"Feel clammy and sweaty and sick to my stomach," offered user.
We found far more negative reactions than positive, but we did stumble on a few people who didn't notice harmful changes. As one dieter put it, "Didn't help me at all. But there wasn't any side effects which was good."
Another simply said, "It doesn't have any side effects."
Our research has shown it takes just one small issue, like side effects, to put a damper on long-term success. If ACE does leave the dieter feeling worse for the wear, this could be a problem.
The Science – "Valid?"
While the ACE website makes the claim that the supplement contains the "most effective" ingredients on the market, we couldn't locate supporting clinical studies linking the formula to weight-loss. A few come with some backing, but there is also raspberry ketones, which is nothing more than a "fad". At DietSpotlight, finding scientific research is critical. If the business can't provide specific proof, we have to call them on it.
The Bottom Line – Does ACE Work?
So, we're here to tell you just the facts. After taking a comprehensive look at ACE, we reached a conclusion. There are some positives, like the length of time the company has been in business and we noticed a few favorable comments, but we have reservations recommending it because of the lack of scientific research supporting weight-loss. Plus, we have concerns about the FDA judgments and the fact that the formula contains raspberry ketones, often included in "fad" supplements with no concrete clinical backing.
If you'd like to get into shape, we recommend going with a supplement that is both effective and side effect free. A great price is another plus.
Among the best products we've seen in 2016 is one called Leptigen. The four-ingredient proprietary blend has been shown in published studies to help increase fat loss and ignite metabolism. There's no one talking about adverse side effects and reviews on the web highlight people seeing exceptional results.
The company behind Leptigen is confident in the product, so they're providing a Special Trial Offer, an excellent decision.