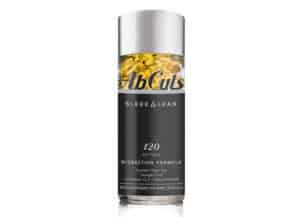 We're hearing a lot of buzz about Ab Cuts Sleek Lean. We decided to take a closer look at ingredients, side effects, scientific studies and customer service. Furthermore, we scrutinized hundreds of customer reviews and comments. Then, we summarized and refined to give you the info you need.
What is Ab Cuts Sleek Lean?
First off, Ab Cuts Sleek Lean ingredients include cla oil, fish oil, raspberry ketones, borage oil, flaxseed oil, sesame seed oil, l-carnitine and coleus forskholii. You should take three Ab Cuts Sleek Lean capsules, three times per day, resulting in increase fat burning.
Ab Cuts Sleek Lean was introduced in 2007 from Revolution Life Style and appears to contain some natural ingredients – impressive. The online store and local retailers sell the supplement. We like the longevity of the company and that we found some favorable customer comments, but read on…
Price – "A Bit Pricey?"
The first concern was the high price of Ab Cuts Sleek Lean. "These products may produce results if you use the entire stack," said our Research Editor, "But it will cost you upwards of $250 a month to continue with their program."
"I could afford the $59.99 per month, but I can't afford all the recommended products I'm supposed to take with it," said one user.
"I found a generic brand with the same ingredients for less than half the price," said another.
Scroll below for one of the best products we've seen over the last year.
Lack of Results– "Another Concern?"
According to customer comments, Ab Cuts Sleek Lean ingredients not producing results is concerning. "I took this for 2 months and didn't lose any weight," said one user.
"This product only works if you cut your caloric intake, increase your exercise program, and take these pills," said another.
"My weight loss was the same as it was without a supplement, I saw no effect at all," said another.
Our research has proven that when there is a certain part of a weight-loss supplement that's concerning, like ineffective ingredients, the chances of long term success are slim. If Ab Cuts Sleek Lean really does offer minimal results and is no better than diet and exercise alone.
The Science – "Solid?"
There is some science to some of the ingredients in Ab Cuts Sleek Lean, but the claims aren't supported by scientific evidence. At DietSpotlight, research is critical. If there's none, we walk away from it.
The Bottom Line – Does Ab Cuts Sleek Lean Work?
Are you heading out to buy Ab Cuts Sleek Lean? Well, we like that we found some favorable customer comments and that is contains a few natural ingredients, but the lack of science leaves us a bit skeptical about this one. Other concerns include ineffective ingredients and high price.
If you're still looking to drop those last few pounds, we suggest a product that is affordable and contains some clinically-tested ingredients.
Among the best supplements we've encountered in 2016 is one called Leptigen. The formula contains some clinically-tested ingredients, which have been shown to help boost metabolism and ignite fat loss. No one is talking about negative side effects and customers are seeing exceptional results.
If you're interested in trying Leptigen, the makers are offering a Special Trial Offer, which shows just how confident they are in their supplement.