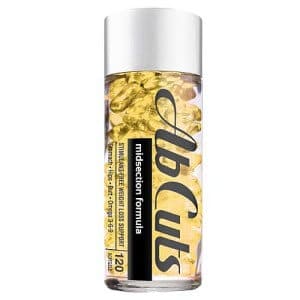 Ab Cuts Sleek Lean claims to help you lose weight without the effort. Many users claim that they continue to eat what they want while taking these pills and still watch the weight fly off. Naturally, we were intrigued, so we did an in-depth review of the ingredients, side effects, scientific studies, and customer service behind this product. We also read reviews online and compiled all that we found into a condensed review for our readers.
EDITOR'S TIP:
Substitute Ab Cuts with a proven fat burner such as
Leptigen
for better results.
What You Need to Know
This fat burner contains a wide variety of ingredients, including linolenic acid, ketones, carnitine, borage oil, flaxseed oil, fish oil, vitamin e, and more. The pills are designed to be taken 1-2 capsules at each meal, and they are convenient and easy to take anywhere, which makes it great for even the busiest of lifestyles.
Ab Cuts Sleek and Lean has only been available for a few years, so it's a fairly new product; however, it is readily available in health stores, online, and in some grocery stores. We like some of the ingredients in this product and the convenience of the pills, but read on . . .
Price–"I can't afford it"
Each canister of Ab Cuts Sleek Lean costs $59.99 plus shipping and handling and lasts 3-4 weeks. The total cost isn't prohibitive for most people, but the recommended stack that claims to deliver optimal results can cost as much as $250 a month. "These products will probably work if you take the entire recommended stack," said our research editor, "but it will cost you upwards of $250 a month to continue with their program." We also had some concerns that it was more expensive than similar products with comparable formulas.
"I could afford the $59.99 per month, but I can't afford all the recommended products I'm supposed to take with it," said one user.
"I found a generic brand with the same ingredients for less than half the price," said another.
Lack of Results–Another Concern
When taken on its own, there were many concerns with Ab Cuts Sleek Lean's results. Several customers that relied solely on this fat burner saw little to no results. "I took this for 2 months and didn't lose any weight," said one user. "This product only works if you cut your caloric intake, increase your exercise program, and take these pills," said another.
"My weight loss was the same as it was without a supplement, I saw no effect at all," said another. Many people seemed to echo these reviews with most claiming that they saw no results at all, or that their results were no better than what they achieved prior to starting with these pills.
Our research has proven that when there is a certain part of a weight loss program that is especially difficult (painful routine, negative side effects, pricy stacks, disappointing results, etc.), then the odds of long term success are slim. If Ab Cuts Sleek Lean really does offer minimal results and is no better than diet and exercise alone, it may make it difficult to keep the weight off with this product.
If you do decide to try this product, we recommend that you couple the supplement with a good diet program and regular exercise in order to maximize your weight loss results.
Scroll below for one of the best products we've seen over the last year.
The Science
There is some science to some of the ingredients in Ab Cuts Sleek Lean, but the quantities included are not supported by scientific evidence. We've seen studies proving that fish oil, carnitine, ketones, and other ingredients can be helpful in achieving your weight loss goals, but the quantities listed for this product are ineffective for weight loss. We couldn't find any studies comparing this product to less costly alternatives, which is a red flag for us. We value unbiased studies and scientific research, so without any evidence backing up this product's claims, it's difficult to recommend it to our readers.
The Bottom Line
After reading a few reviews about Ab Cuts Sleek Lean, we had some optimism about its effectiveness as a weight loss solution for our readers. We were excited by the convenience of the capsules and how easy it is to find online or in stores, but because there's no science backing up their formula and some of the ingredients included don't have enough to be effective for weight loss, we can't recommend this as a weight loss product.
If you're still looking to drop those last few pounds, we suggest a product that is affordable, offers proven results, and has claims that are supported by unbiased studies and published research.
One of our favorite products so far in 2015 that offers proven weight loss is called Leptigen. We've heard a lot about Leptigen's proprietary blend of four ingredients, all of which are proven to be effective for weight loss. This supplement combines fat burning and metabolism boosting ingredients to help dieters lose weight without the harmful side effects associated with many products on the market.
If you're interested in trying Leptigen, the makers are currently offering a special trial offer, which shows just how confident they are that you'll lose weight with their product.