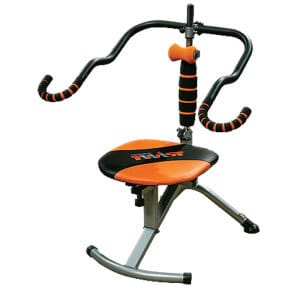 I did two things this week. I obsessed over every aspect of Ab Doer. Then I wrote this review about it. We decided to do an in-depth review of the Ab Doer's performance, product claims, customer service and clinical research. We also digested hundreds of user comments to find out specific details. We looked around the internet and summarized the info we found to give you the bottom line.
EDITOR'S TIP:
Click here
to combine Ab-Doer with a proven testosterone booster such as Pronabolin for better results.
What You Need to Know
First off, the Ab Doer is a piece of workout equipment that targets the abdominal area and core. There are multiple workouts that you can do on the Ab Doer. The equipment is easily assembled with no tools required, and the user follows the exercises with the help of this machine to build muscle strength in the abdominals and core. You can use this machine at any time, but it's difficult to transport, so it isn't exactly convenient.
The Ab Doer was introduced about 5 years ago and has been a staple of the "As Seen on TV" fitness market ever since.  The longevity as a company and money-back guarantee are encouraging signs. The price is reasonable for a piece of exercise equipment at $150 plus processing and handling costs. We also like the ease of use and simplicity of the Ab Doer, but read on…
Lack of Weight-Loss – "A Problem?"
The first issue we came across with Ab Doer was a lack of weight-loss results. The goal is washboard abs and a strengthened core. While there do seem to be some successful reviews from users that have received the look they want, but these reviews are outnumbered by those that couldn't stay motivated to stick with it or didn't lose what they were expecting. "The main goal is stronger abdominals," said our Research Editor. "So, don't expect the weight to drop off as quickly as you're hoping. In fact, you may even gain when starting with the Ab Doer."
"I've gained 5 pounds since starting with the Ab Doer," said one customer.
"This Ab Doer works a bit for my abs, but I'm not losing weight overall," explains another.
Scroll below for one of the best products we've seen over the last year.
Targets a Single Area of the Body – "Another Concern"
Another complaint that many reviewers mentioned was the fact that the Ab Doer targets one specific muscle group. For those working towards overall fitness, and not just focused on the abs and core, this machine can be disappointing: "I've been using the Ab Doer for 2 months now and my abs look better, but what about the rest of my body," said one disappointed user.
"This product does what it's intended to do, but more is needed for overall fitness and successful weight loss," said another reviewer online.
Some people have found success combining the Ab Doer with additional workout programs as well, like this customer: "I wasn't seeing the results I wanted with the Ab Doer, so I started adding additional exercise regimens and started getting better results."
Most experts agree that if there are any parts of a diet or exercise program that are especially troublesome (difficulty, lack of results, cost, etc.), then the odds of long-term success are drastically reduced. If the Ab Doer does really focus on one specific muscle group, and doesn't promote weight-loss, this could be an issue for many users.
If you're interested in trying Ab Doer, our staff recommends that you combine it with a proven supplement, other fitness regimens that target other parts of the body and cardio exercise.
The Science – "Any Proof?"
The Ab Doer does not have much scientific backing, but any machine that forces you to exercise your abs consistently will promote some results. The lack of clinical results and studies proving that the Ab Doer is better than sit-ups and crunches is disheartening. Here at DietSpotlight, we like to see products back up their claims with science, so when they don't it's a glaring red flag.
The Bottom Line – Does Ab Doer Work?
So, we've reached the end of this one. What's the final take? We're always intrigued with "As Seen on TV" ads, and the Ab Doer was no different. With over 3 million units sold, there had to be something to it. The Ab Doer has longevity in the fitness market and many users have seen positive results, but unfortunately it seems like it was just a fad that is long gone. The website is riddled with formatting errors and hasn't been updated since 2012, the customer service number is no longer connected, users have been disappointed by the lack of results and the Ab Doer targets one specific muscle group, while ignoring overall fitness. For these reasons, we're hesitant to recommend the Ab Doer as a weight-loss product.
If you're looking to lose weight and you'd like an alternative to Ab Doer that promotes overall fitness, helps you burn fat and boost your overall metabolism, we suggest finding a supplement that has multiple ingredients and scientific research providing proven results.
Among the best products we've found in 2016 is one called Pronabolin. The formula is a proprietary blend of nine ingredients clinically proven to help you reclaim energy and naturally boost testosterone levels. There's no talk of adverse side effects and comments all around the internet show people are seeing great results.
The makers of Pronabolin are so confident in their product they're offering every customer a 120-day money-back guarantee and multiple-bottle discounts.