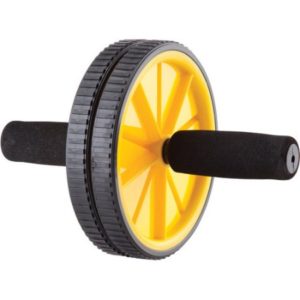 I'm here to cut through the noise and get you the bottom line on Ab Roller. We decided to take a closer look at the ingredients, side effects, customer service, and clinical studies. Then, we read through hundreds of customer reviews to see what they had to say. We condensed everything here to give you the bottom line.
What is Ab Roller?
Firstly, the Ab Roller wheel is an exercise aid to help you work your ab muscles without doing a standard sit-up. It's a wheel that supposedly allows your spine to follow its natural curve, thereby helping you to effectively engage your entire core.
There are several versions of the Ab Roller, so we are not sure exactly who makes it or when it first hit the market. We like that they are available at a reasonable price from a number of retailers online and off, but read on…
Poor Design – "Time To Go Back To The Drawing Board"
The first thing we noticed is a number of complaints about the Ab Roller's poor design and quality. "If something isn't easy to use or breaks easily, people aren't going to be happy. They'll move on to something else that gets the job done," said our Research Editor.
"It was easy enough to assemble and does work as you'd expect, but I'd rather opt for a better design," said a user.
"This item is a total waste of money," shared another.
Others felt the design was fine because it worked well for them.
"This thing works great," claimed one dieter.
"I'd recommend this to anyone who wants a good workout that's fun and not too intense, or too boring like just doing crunches," another put it.
Scroll below for one of the best products we've seen over the last year.
Ineffective – "Doesn't Really Work?"
There is some concern because several users report that the exercise wheel didn't do anything for them, or broke before it could.
"Not good at all, don't waste your time in my opinion," shared a customer.
"I get much better ab workouts from a few other body weight exercises," claimed a buyer.
Some users disagree.
"Works well for a decent price," said a reviewer.
"It is such a simple device with such great results. I'm not gonna lie, it's hard to use effectively. Your abs and back will hurt the first week or so, but things will get better," explained a second.
Over the years, we've learned that it takes one small thing to keep customers from getting good results long-term. In this case, Ab Roller needs to focus on improving product quality to ensure it can withstand heavy use.
The Science – "Iffy At Best"
Exercise is the key to strengthening muscles, but there's no scientific proof that an Ab Roller workout will engage the core properly enough to help you get a six-pack. Plus, if there is a layer of fat over the midsection, you won't be able to see the results and this type of movement does not burn calories.
At DietSpotlight, we want to see science before we can recommend any product.
The Bottom Line – Does Ab Roller Work?
What's the real deal with Ab Roller? Some versions of this product may be better than others, but they're all built on the premise of rolling from a seated to flat stretched out position to engage the core. We are hesitant to suggest it is the best way to lose weight or strengthen the midsection.
If you're ready to lose weight, we suggest using a dietary supplement made with clinically tested safe and effective ingredients shown to help you naturally improve metabolism.
Among the best products we've seen in 2016 is one called Leptigen. We say this because our research into customer reviews shows they are happy with the product. The all-natural formula contains ingredients that are clinically tested and shown to help boost fat loss and spark metabolism.
The manufacturer is currently running a Special Trial Offer. This shows a great confidence in the product, that we love to see.