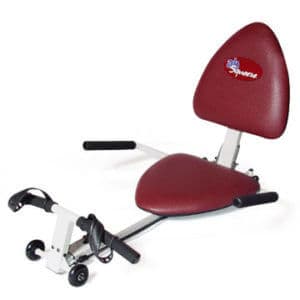 You may be surprised by what I say in this Ab Squeeze review. We looked closely at the ingredients, customer service, side effects, and clinical studies to see what we could learn. Then, we went on to read through hundreds of comments to see what people really thought. This review is a summarized and condensed version of our findings.
What is Ab Squeeze?
To begin with, the Ab Squeeze is a home exercise tool designed to help you work your core muscles. The small machine allows the user to sit, hold on to the handles and work the midsection. While this could improve strength, unless the stomach is lean you won't see that six-pack.
It looks like Fitness Quest created the Ab Squeeze, but we don't think it's available any longer. We like that it makes it easy to do abdominal exercise at home and it folds nicely for storage, but read on…
Complex Assembly – "Hard to Get Together"
The first issue is that we found several reports of the Ab Squeeze being hard to put together. "Even if you have instructions, if something is difficult to assemble, people aren't going to use it. And if people don't get what they expect, they're not going to be happy," said our Research Editor.
"You have to be a mechanical engineer to assemble this thing… in fact I never did get it assembled correctly… and it never did work," explained one user.
"I found that the idea of getting down on the floor was not a good one and as someone else stated, I might as well get down on the floor and do sit ups without spending the money for this item," reported another.
Others didn't seem to mind the assembly.
"I found this product easy to assemble and, also, easy to use. I don't know if it really does anything for my middle, however," offered a dieter.
"I did find it helpful for ab slimming," said a buyer.
Scroll below for one of the best products we've seen over the last year.
Hard to Use – "Takes Practice"
Our next concern is the number of people who found the Ab Squeeze hard to use. If there is a tight learning curve it could be a little too much to handle or make it a chore to complete each day.
"This is very hard to use. As you push your legs and lean back you fall back and your legs get stuck because the wheels don't work," shared a customer.
"This machine is not worth it. You might as well do crunches on the floor for the same effect. It just wasn't worth it," offered a user.
Others find the product very effective.
"I have been using the ab squeezer everyday. I lost weight in stomach and thigh area," said a reviewer.
"It was a little rough at first, but I find it's working great for me," was another experience.
Our years of experience have shown us that if there's something small, like difficult assembly, customers won't get long-term results. If the Ab Squeeze is hard to put together and then use, some people will give up and go in search of a better, more effective, alternative.
The Science – "Maybe, Maybe Not"
There are a number of machines similar to the Ab Squeeze on the market today designed to take the place of traditional ab exercises. There is little science to support these are any more effective than going the old fashioned route, so we're not sure the money is well-spent.
At DietSpotlight, we want to see science before we can make a recommendation.
The Bottom Line – Does Ab Squeeze Work?
What's the real deal with Ab Squeeze? It very well may work your core muscles and help you get those abs you want, if you can manage to get it together and learn how to use it. We also have reservations because these movements will not burn enough calories to promote weight-loss. We are concerned because many users report you may as well get down on the floor to do standard exercises.
If you're ready to lose those extra pounds, we suggest looking to a supplement that's clinically tested and perfectly paired with an exercise program.
Among the best products we've seen in 2016 is Leptigen. It contains clinically tested ingredients, all shown to help naturally boost metabolism levels, to make it easier to lose weight. Dieter experiences are fantastic and there are no reports of harmful side effects. it also helps that you don't have to spend hours putting it together.
If you're interested, you can take advantage of a Special Trial Offer, directly available from the manufacturer. We love to see this kind of confidence in a product.