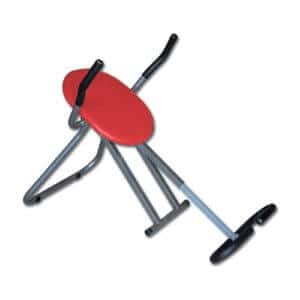 We've heard a lot of buzz about the Ab Swing, so we did one of our in-depth reviews, scrutinizing the side effects, ingredients, customer service and scientific studies. Plus we looked at hundreds of user comments and remarks from all over the internet. Finally, we summarized and condensed everything we found to give you the facts you need.
EDITOR'S TIP:
Click here
to combine Ab Swing with a proven testosterone booster such as Pronabolin for better results.
What is the Ab Swing?
First off, Ab Swing is a fitness machine. The device has a padded seat and handlebars. It allows you to rock back and forth. This in turn helps exercise the core and abdominal muscles. It's similar to a crunch or sit-up. This device is supposed to target the lower and upper abs, lower back and obliques. It's fine for women and men alike. There is no special diet plan required. You can buy this exercise product through dealers such as Amazon.
From what we gathered, the Ab Swing has been available since at least 2007. This fitness device is said to help you execute six different abdominal exercises. Moreover, it can be used in the comfort of your own home. Also, this workout tool is not supposed to strain the back area, but read on…
Poor Construction – "Is It Worth It?"
One drawback is the poor construction. According to our Research Editor, "Some customers have complained about the overall quality and construction of the Ab Swing. Naturally this is concerning, because you want the fitness device to work well and not break."
One customer stated, "This machine is less than sturdy. Mine actually cracked in under two months. I only weigh 165 pounds. Not worth $100."
On the other hand, a different user said, "It works okay for the lower abs. But, every time I swing on it, I feel it creak and wobble. I feel like it's going to break under me each time I use it."
Another posted, "The Ab Swing works pretty well. I'm a senior citizen, and I can feel it working out my midsection."
Scroll below for one of the best products we've seen over the last year.
Discouraging Comments – "Not A Good Sign"
Another issue is the discouraging user comments we found online. For instance, one customer reported, "It makes a better decoration than it does an exerciser. I've been using it for a few months, and all it's done is make me feel awkward."
However, a different person said, "Not bad overall. I give it three stars. A little odd to use, but seems effective."
"Been using it for a week now. Not my favorite piece of fitness equipment, but it's different," mentioned another.
Our thorough research has revealed that if there's a particular facet of a fitness program or workout machine that's especially bothersome (poor construction, discouraging comments, steep price) the chances of real results for the long term are not very good. So, if the Ab Swing is poorly constructed and does not hold up well for many users, this could be a serious issue.
The Science – "Any?"
At DietSpotlight, we like to see some published research that really supports the fitness product or supplement we're reviewing. As for the Ab Swing, we could not pinpoint any solid studies that back up this exercise tool and its marketing claims. Therefore we cannot really get behind this workout product.
The Bottom Line: Does Ab Swing Work?
So, should you pull out your credit card and place an order for this fitness device? Well, first off, we like that no one really mentioned any Ab Swing side effects or painful workouts. It's also nice to see that you can use this exercise tool in the comfort of your own home. On the other hand, we have some doubts about this product because it's not backed by any solid studies. Also, we're definitely concerned about the poor construction of this machine that some customers have mentioned.
If you really want to get started improving your workouts, increasing muscle strength and enhancing your physique, we encourage you to select a fitness device or supplement that is supported by documented research, is easy to use anywhere and is backed by numerous user testimonials.
Among the best products we've seen in 2016 is one called Pronabolin. It contains a blend of nine powerful ingredients. Some of which have been clinically tested and are shown to help improve muscle strength, boost vitality and enhance testosterone levels. Be aware that we have not found any discouraging customer comments, and the user reviews posted online show people are seeing solid results.
The makers of Pronabolin are so confident in their product they're offering every customer a 120-day money-back guarantee and multiple-bottle discounts.