Updated: 09/29/2015 - Sponsored by Leptigen
Abdominal Cuts Review - Does This Weight Loss Supplement Really Work?
Are class action lawsuit and dangerous side effects deal breakers?
PUBLISHED: 09/09/2015 | BY: SUMMER BANKS, SENIOR REVIEWER
Editor
's Review:
3.5
/ 5.0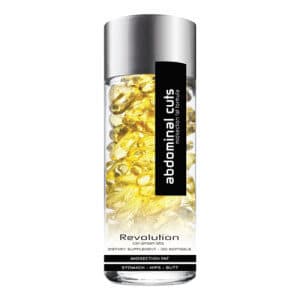 Lately there has been plenty of talk concerning Abdominal Cuts supplements for weight loss, so we took it upon ourselves to dig deep and write a complete review, focusing closely on the side effects, ingredients, clinical studies and level of customer care. Moreover, we examined dozens of user responses and dieter reviews from the internet. We then took all the data we collected and compacted this information to provide you with only the important facts.
EDITOR'S TIP:
Substitute Abdominal Cuts with a proven fat burner such as
Leptigen
for better results.
What You Need To Know
Abdominal Cuts is a line of diet supplements for women and men trying to slim down and improve muscle tone. This company was founded by Matt Hesse, who believes strongly in holistic health. These products are intended to be taken in conjunction with a healthy diet and exercise program for maximum results. The Abdominal Cuts supplements available include; Thermo Rise 02 ($59.99), Ab Cuts ($26.99), Ab Cuts 5-in-1 Fat Fighter ($22.99), CLA Shake Vanilla or Dark Chocolate ($49.99), Sleek and Lean Midsection Solution ($59.99), Super Burn ($39.99) and Ab Cuts Active for Women ($34.99). The core ingredients used in these supplements are; CLA (conjugated linoleic acid), Green Tea, Caffeine Anhydrous, Yohimbe, Raspberry Ketones and Green Coffee Bean.
Abdominal Cuts has been around since 2010. All of the products can be purchased via the company website. Also, these supplements use LiquidGel technology, which allows for faster absorption. Furthermore, natural Safflower Oil is used in Ab Cuts, but read on…
Class Action Lawsuit – Look Out!
"You should be aware that a lawsuit was filed against Kendra Wilkinson back in 2013 for advertising Abdominal Cuts as an effective fat loss product. Not only was this product called ineffective, but it was also cited as dangerous to people's health," says our Research Editor.
One customer has commented, "These are so bad. I thought I'd try to finish them but I kept getting the worst kind of ulcers with these."
Another user stated, "This is a fraudulent product. Do not fall for it!!!"
Scroll below for one of the best products we've seen in 2015.
Dangerous Side Effects – Take With Caution
It's evident that Abdominal Cuts soft gels can lead to serious side effects. According to one customer, "They make it hurt so bad that you keep on eating to dissolve the formula. Hurts over several days. Terrible."
"After three days I was so bloated and belching constantly," said another dieter.
After doing some exhaustive research, we discovered that if a particular characteristic of a fat-loss pill or diet system is very burdensome (dangerous side effects, steep price, company lawsuits) the likelihood of real weight loss for the long term is rather minimal. In other words, if Abdominal Cuts causes dangerous adverse effects in a lot of people, this could definitely be a serious drawback.
The Science
Even though the official website boasts that Abdominal Cuts works well for fat loss and improving lean muscle mass, there are no clinical studies provided to support these claims. While we appreciate that CLA oil is used in these products and can help support lean muscle tissue, this does not mean Abdominal Cuts will cause serious fat reduction. Since there is no clinical science presented, we cannot confirm that these supplements will be effective.
The Bottom Line
The natural ingredient Safflower Oil is used in Abdominal Cuts, and does provide CLA to benefit lean muscle tissue. However, there are clearly quite a few user complaints regarding these supplements. Furthermore, the class action lawsuit is a major drawback and deterrent. In the end, Abdominal Cuts supplements are not supported by real science, either.
Those looking to lose weight faster and slim down immediately, we advise you to go with a supplement that is supported by scientific research, contains safe ingredients and does not lead to serious adverse effects.
Among the top weight loss products we've noticed in 2015 is Leptigen. This diet aid uses four key ingredients, which have been proven in published scientific studies to encourage fat loss and elevate metabolism. We should also point out that we haven't seen any complaints of side effects and customer reviews around the web tell us people are seeing good results.
Also, the makers of Leptigen are so confident in their product they're offering a special trial offer, which is a good sign.