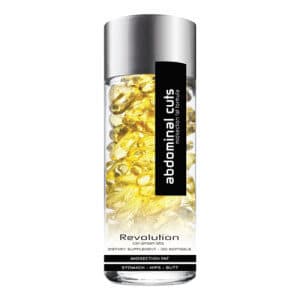 Abdominal Cuts is not your grandmother's product. Our in-depth review focused on the side effects, ingredients, clinical studies and level of customer care. Moreover, we examined hundreds of user responses and comments. Then, we summarized and condensed to give you the info you need.
What is Abdominal Cuts?
First off, Abdominal Cuts is a line of supplements, including Thermo Rise 02, Ab Cuts, Ab Cuts 5-in-1 Fat Fighter, CLA Shake Vanilla or Dark Chocolate, Sleek and Lean Midsection Solution, Super Burn and Ab Cuts Active for Women. Supposedly, they'll promote weight-loss. The ingredients include conjugated linoleic acid, green tea, caffeine anhydrous, yohimbe, raspberry ketones and green coffee bean. The recommended serving varies by product.
Abdominal Cuts has been around since 2010. All of the products can be purchased via the company website and through trusted retailers. We like that we found some positive customer comments and that some supplements include a few natural ingredients, but read on…
Lack of Results – "Troubling?"
The first concern from Abdominal Cuts reviews was the lack of results. "The use of natural ingredients is promising," said our Research Editor. "But, that doesn't mean you'll lose weight or burn fat."
One customer commented, "Finished the whole bottle with exercise & eating better…no change noticed."
Another user stated, "I took as directed along with moderate exercises and I remained at the same weight during the entire bottle. No help with appetite control or nothing."
While some users didn't notice results, we found that others reported solid results.
"My wife and I had been taking these from 1 month and it seems to be working…I actually reduced more than an inch in my waist line," reported a dieter.
Scroll below for one of the best products we've seen over the last year.
Side Effects – "Not Good"
We found that some users were concerned about Abdominal Cuts side effects. According to one customer, "Been taking these pills as directed (two pills twice a day with food) for two weeks caused bloating, constipation and dizziness."
"After three days I was so bloated and belching constantly," said another.
According to some Abdominal Cuts reviews, some users didn't experience adverse reactions.
"Started taking it twice a day after realizing I wasn't having any negative side effects," commented a customer.
"I've taken other diet supplements and this one doesn't give me any side effects," reported another.
After doing some exhaustive research, we discovered that if a particular characteristic of a fat-loss pill is concerning, like being the cause of adverse reactions, the likelihood long-term success is reduced. Is it really worth it if you use Abdominal Cuts and experience negative side effects?
The Science – "Evidence?"
Even though the official website boasts that Abdominal Cuts works well for fat loss and improving lean muscle mass, there are no clinical studies provided to back these claims. While we appreciate that CLA oil is used in these products and can help support lean muscle tissue, this does not mean Abdominal Cuts will cause serious fat reduction. Since there is no science presented, we cannot confirm that these supplements will be effective.
The Bottom Line – Does Abdominal Cuts Work?
So, are we ready to tell you to buy this one? The natural ingredient safflower oil is used in Abdominal Cuts and does provide CLA to benefit lean muscle tissue. However, there's no direct connection between this formula and weight-loss. Also, we're a bit skeptical about this one due to customers not seeing results and complaints of negative side effects.
Those looking to lose weight, we suggest going with a supplement that's supported by scientific research, not connected to harmful side effects and backed by positive customer comments.
Among the best products we've seen in 2016 is one called Leptigen. The supplement uses four key clinically-tested ingredients, which have been shown to help encourage fat loss and elevate metabolism. We should also point out that we haven't seen any complaints of harmful side effects and customer reviews around the web tell us people are seeing good results.
In a show of confidence, the makers of Leptigen are offering customers a Special Trial Offer.