Updated: 08/25/2015 - Sponsored by Leptigen
Abidexin Review – Does This Fat Burner Work?
Are side effects and lack of results deal breakers?
PUBLISHED: 08/21/2015 | BY: TORY GRAY, SENIOR REVIEWER
Editor
's Review:
3.5
/ 5.0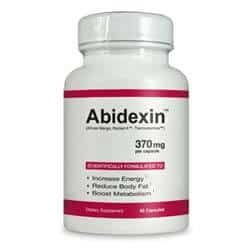 There's some talk about Abidexin leading us into one of our deep reviews. We looked through the ingredient list, testimonials, and clinical research. Comments are abundant, so we checked those out as well. After summarizing all the information we shortened it for you.
EDITOR'S TIP:
Substitute Abidexin with a proven fat burner such as
Leptigen
for better results.
What You Need to Know
To begin, Abidexin is a fat burner formulated with garcinia cambogia, green tea, purple tea, natural caffeine and theobromine. You take one to two capsules twice daily before meals. The pills are small so you don't have to worry about carrying around a bulky bottle – a good touch.
The supplement, created by NutriPharm LLC, was introduced in 2014. The formula contains all-natural ingredients – ideal. Abidexin diet pill is available online via the official website. We like the professional looking business location and money-back guarantee, but read on…
Side Effects – Not so Great
The last thing a dieter wants to deal with is side effects. "Searching for a good supplement does not mean trading price for problems," says our Research Editor. "If Abidexin makes you feel bad the lower price is not worth it."
"I have only been taking Abidexin for 2 weeks. My Dr made me stop. My blood pressure escalated," says a user.
Another buyer claims, "I didn't like that it made me feel jittery when I took it with my coffee."
Keep scrolling for one of the best products we've found in 2015.
Poor Customer Results
There's no shortage of negative customer reviews for Abidexin and most complain of the same issues. "I am taking these pills already 10 days, until today I do not see any progress, I haven't lost any weight still the same," a dieter reports.
"For me these pills are a lie, it does not working. It´s like all the rest that sell in the market I've been taking Abidexin for three weeks and my appetite continued like. And of course I haven´t lost any weight," one customer said.
Based on the research we've completed, even the smallest issue with a product is enough to curb long-term success. If Abidexin causes side effects, that could be a problem.
The Science
The Abidexin website is rather bare when it comes to information. There is no mention of clinical support or study. Green tea and caffeine do have positive research, but we don't know enough about the supplement to see if proven amounts are included. There are four sources of caffeine, which may be an issue for dieters sensitive to the stimulant. At DietSpotlight, we like to see science and Abidexin offers none.
The Bottom Line
Our look into Abidexin left us with more questions than answers and that means we can't give this supplement the green light. We like the proven ingredients and one bottle costs less than $50, but there are some negatives as well. The company has earned an "F" BBB rating and customers are not happy with their results.
When you're ready to kick off those extra pounds, we suggest a supplement that works with a proven formula offered at a great price.
We've seen tons of weight-loss products in 2015 and Leptigen is one of the best. The proprietary blend contains four ingredients – each with clinical support via published studies. There's no talk of irritating side effects and consumer reviews say results are great.
The company responsible for Leptigen is confident enough to offer a free trial offer.
(Feel free to scroll below for our previously published full-length reviews of Abidexin)
Previous Abidexin Review (Updated March 18, 2014):
What You Should Know
Click Here To See Our Highest Rated Review
Abidexin is a popular weight-loss supplements claimed to completely natural and effective for men and women of all ages. There are dozens of customer testimonials, but it's important to take your time and properly evaluate a product based on its ingredients, price, and manufacturer. Let's take a closer look.
Ingredients:
Fat Oxidation Blend:
Garcinia Cambogia
Green Tea
Green Select Phytosome Green Tea
Purple Tea with GHG
Thermic Energy Blend:
Natural Caffeine
Theobromine
Higenamine
These ingredients work together to accelerate weight loss. Green Tea and Garcinia Cambogia suppress appetite and stimulate faster metabolism while Purple Tea blocks new fat storage. Caffeine and Theobromine both boost energy and well-being. Finally, Higenamine improves muscle contractions, which leads to better muscle tone and appearance.
Product Features
Abidexin has 3 big claims behind it:
Reduce appetite and cravings
Boost your metabolism
Reduce excess body fat
It contains only 8 ingredients in 2 proprietary blends and is touted as the "world's strongest" fat burner. The official website contains testimonials, before and after photos, and a 1-800 number. There is also a long list of FAQs and easily accessible customer support. Neither a special diet nor exercise is listed as a requirement for results with Abidexin.
Abidexin's claims are backed by a 90-day money-back guarantee. This guarantee means that if you aren't satisfied with Abidexin, for any reason, you can return for a full refund (minus S+H). Each bottle contains about 30 days of servings, so you could even use an entire bottle before deciding you don't like it.
While it has solid ingredients and a good guarantee, Abidexin can get a little pricey ($40/bottle with free shipping).
Advantages
Patented, proven ingredients in high doses
Customer testimonials with before and after photos
Detailed FAQ section found on the main website.
A 90-day money-back guarantee from the manufacturer
Disadvantages
A single bottle of Abidexin lasts between 10 and 30 days
Slightly high per-bottle cost, about $40
May cause some side effects to caffeine-sensitive users
Conclusion
Abidexin contains a simple blend of clinically-proven ingredients without fillers or dangerous compounds. While touted as the most effective weight-loss pill, it's actually similar to other products. It's likely quite effective for burning fat, however the higher-than-average cost could be a deterrent for customers looking for a long-term supplement.
For more information and to buy Abidexin, go to www.abidexin.com.
GD Star Rating
loading...