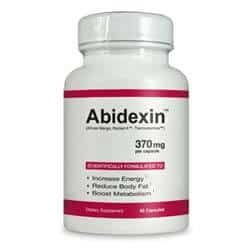 This week, I obsessed over every aspect of the weight-loss supplement Abidexin. We looked through the ingredients, side effects, clinical research and customer service. Comments are abundant, so we checked those out as well. After summarizing all the information we shortened it to give you what you need.
What You Need to Know
To begin, Abidexin is a fat burner formulated with garcinia cambogia, green tea, purple tea, natural caffeine and theobromine. You take one to two capsules twice daily before meals. The pills are small so you don't have to worry about carrying around a bulky bottle, a good touch.
Created by NutriPharm LLC, Abixen was introduced in 2014. The formula contains all-natural ingredients, which is ideal. The diet pill is available online via the official website. We like the professional looking business location and money-back guarantee, but read on…
Side Effects – "Not So Great?"
The first issue we dealt with was Abidexin side effects. This is the last thing a dieter wants to deal with. "Searching for a good supplement does not mean trading price for problems," says our Research Editor. "If Abidexin makes you feel bad, the lower price is not worth it."
"I have only been taking Abidexin for 2 weeks. I saw a rise in my blood pressure," says a user.
Another buyer claims, "I didn't like that it made me feel jittery when I took it with my coffee."
We have to take the flip side into consideration. As one buyer said, "It curbs my appetite."
Another didn't mind the extra energy. She offers, "The first day I felt a little jittery but my appetite was decreased."
Scroll below for one of the best products we've seen over the last year.
Poor Customer Results – "A Problem!"
There's no shortage of negative customer reviews for Abidexin ingredients and most complain of the same issues. "I am taking these pills already 10 days, until today I do not see any progress, I haven't lost any weight still the same," a dieter reports.
"For me these pills are a lie, it does not working. It´s like all the rest that sell in the market I've been taking Abidexin for three weeks and my appetite continued like. And of course I haven´t lost any weight," one customer said.
If you look deep, you can find some users that saw some positive results. One dieter reports, "I think you have to have the right attitude for any diet pill to work. This product works."
Another offers a simple comment, "It does what it says, I'm happy."
Based on the research we've completed, even the smallest issue with a product, like jitters, is enough to curb long-term success. If Abidexin causes side effects, that could be a problem.
The Science – "Validated?"
The Abidexin website is rather bare when it comes to information. There is no mention of clinical support or study. Green tea and caffeine do have positive research, but we don't know enough about the supplement to see if proven amounts are included. There are four sources of caffeine, which may be an issue for dieters sensitive to the stimulant. At DietSpotlight, we like to see science and Abidexin offers none, that's a big concern.
The Bottom Line – Does Abidexin Work?
OK, can we give this supplement the green light? We like the proven ingredients and one bottle costs less than $50, but there are some negatives as well. The company has earned an "F" BBB rating and customers are not happy with their results, which leaves us hesitant to propose this one to dieters.
When you're ready to kick off those extra pounds, we suggest going with a supplement that works with a clinically proven formula that's backed by strong customer support with no side effects.
Among the best products we'be seen in 2016 is one called Leptigen. The proprietary blend contains four ingredients – each with clinical support via published studies showing it helps to spark metabolism and speed up fat loss. There's no talk of irritating side effects and consumer reviews say results are great.
Plus, the company responsible for Leptigen is confident enough to offer a Special Trial Offer, quite the touch.