Updated: 10/06/2015 - Sponsored by Leptigen
Acai Berry Blast Review - Does This Weight Loss Supplement Really Work?
Are high price and fad diet ingredient deal breakers?
PUBLISHED: 09/05/2015 | BY: SUMMER BANKS, SENIOR REVIEWER
Editor
's Review:
3.5
/ 5.0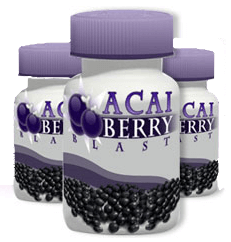 There's been a lot of fuss surrounding Acai Berry Blast weight loss pills, so we took the time to write a detailed review, taking a close look at the ingredients, side effects, customer care and scientific research. Afterward, we spent hours sorting through hundreds of dieter reviews and user comments from around the web. Finally, we summarized all the data we found to give you the important details.
EDITOR'S TIP:
Combine Acai Berry Blast with a proven fat burner such as
Leptigen
for better results.
What You Need To Know
Acai Berry Blast is one of dozens of Acai weight loss pills on the market today. Put simply, Acai berries come from Brazilian rainforests and have some health benefits. This fruit is high in antioxidants, and also provides some fiber, protein, omega fatty acids, calcium and vitamins. It is the core ingredient used in this supplement, and each serving provides 1,200 milligrams. Acai Berry Blast is claimed to detoxify the body, boost energy levels and help with weight loss. You are directed to take this formula twice a day (two capsules is a serving).
Acai Berry Blast was initially released in 2008 and it can be used by both women and men. This supplement uses natural ingredients and it may help counteract damaging free radicals, but read on…
The Price Tag – Wow
"Although there is a "free trial" of Acai Berry Blast available, the actual cost of this supplement is rather steep. Although it's not clearly posted, a single bottle of Acai Berry Blast (15-day supply) sells for $89.95," according to our Research Editor.
One dieter complained about the company, "One tablet of the Extreme berry blast gave me a horrible case of diarrhea. I notified sender to not send anymore and Please refund the $89.00 you charged my account."
Another customer stated, "Scam! They charged me 127 dollars and the trial date was not up."
Scroll below for one of the best products we've seen in 2015.
Fad Diet Ingredient – Watch Out!
We couldn't help but notice that the one important ingredient used in Acai Berry Blast is a fad weight loss ingredient that is not supported by any real research. One user said, "I did not notice any difference in weight loss or energy while taking it for a couple of weeks. I did begin having a quick pain in my stomach immediately after I ate anything."
According to another customer, "I would not recommend this to anyone who is serious about losing weight. It didn't give me more energy or anything."
We have done plenty of research and came to the conclusion that if a particular part of a weight loss pill or diet program is especially bothersome (fad diet ingredients, high price, bad taste) the probability of long-term weight loss results is low. This means if Acai Berry Blast does use fad diet ingredients that fail to cause actual weight loss, this could be a major problem.
The Science
We at DietSpotlight prefer to see actual science that supports each diet product we investigate. However, there is no real clinical research presented to support Acai Berry Blast capsules. While this supplement may provide some antioxidants to help reduce free radical damage, it has not been proven to assist with fat loss at all.
The Bottom Line
It's always good to see a supplement that uses natural ingredients and we appreciate that Acai Berry Blast provides some antioxidant protection. On the other hand, the dozens of customer complaints about this diet product are very concerning. Too many customers have called this product/company a total scam. Moreover, there does not appear to be a money-back guarantee with Acai Berry Blast.
If you really need to trim down and shed pounds, we advise you to choose a weight loss formula that contains clinically-proven ingredients, does not cost you a fortune and is supported by positive customer reviews.
One of the best products we've encountered in 2015 is Leptigen. This diet supplement contains a proprietary blend of four ingredients that have been proven in published clinical studies to help kick-start metabolism and increase fat loss. We haven't seen any talk of harmful adverse effects and user comments posted online show people are seeing real results.
Also, the makers of Leptigen are so confident in their product they're offering a special trial offer, which is a good sign.