Updated: 09/29/2015 - Sponsored by Leptigen
Access Bars Review - Do These Diet Bars Really Work?
Are high price and lack of clinical results deal breakers?
PUBLISHED: 09/13/2015 | BY: SUMMER BANKS, SENIOR REVIEWER
Editor
's Review:
2.9
/ 5.0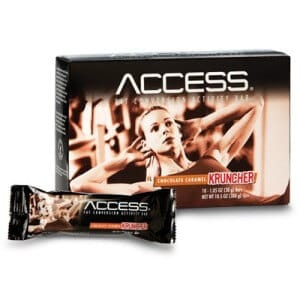 You may have noticed all the chatter about Access Bars for weight loss. We dug deep and created a detailed review, focusing on the side effects, ingredients, customer-service quality and scientific studies. We additionally examined hundreds of dieter responses and user reviews posted all over the web. Lastly, we summarized everything we found in order to give you the important facts.
EDITOR'S TIP:
Combine Access Bars with a proven fat burner such as
Leptigen
for better results.
What You Need To Know
Access Bars are boasted as exercise bars with patented technology. This product is made by Melaleuca, The Wellness Company. There are six different flavors available, which include; chocolate caramel kruncher, chocolate coconut craze, chocolate peanut butter crisp, chocolate raspberry rush, chocolate s'mores spark and mint chocolate ice. According to the official website, these bars help increase the metabolism of fat, improve muscle tone and target fatty areas like the legs and midriff. The notable ingredient found in Access Bars is CLA, which is Conjugated Linoleic Acid taken from Safflower Oil. Each bar provides the following nutrition; 5 grams of fat, 130 calories, 7 grams of sugar, 2 grams of protein and 6 grams of sugar alcohol.
From what we can tell, Access Bars have been available since 2011. These bars are sold on convenient websites like Amazon and a few customer testimonials are posted online. Furthermore, these bars may help curb appetite, but read on…
High Price – Ouch
According to our Research Editor, "The actual cost of Access Bars is pretty steep at $44.99 for only 10 bars. This is basically $4.50 per bar and it is certainly not affordable for some dieters."
One customer had this to say, "Are you kidding me? How are these affordable at all??"
Another dieter stated, "Wayyy too expensive when you consider the actual cost per bar."
Scroll below for one of the best products we've seen in 2015.
No Real Clinical Results!
From what we can tell, there are no clinical trial results or studies presented on the website to support the weight loss claims pertaining to Access Bars. In fact, one dieter said, "Don't see any fat loss from my midsection at all."
According to another user, "Not good for weight loss, and don't like all the saturated fat and sugar."
After doing all sorts of research, we have concluded that if there is a specific part of a weight loss supplement or diet pill that is quite concerning or bothersome (a difficult exercise, no clinical studies, high cost) the chances of prolonged weight loss success are small. Therefore if Access Bars are not supported by real science and are too expensive for many dieters to afford, this could be a deal breaker.
The Science
Sadly we did not locate any real science to support Access Bars for weight management and fat reduction. Even though these bars are claimed to help burn off excess body fat, there is no real clinical evidence presented on the official website. We at DietSpotlight need to see actual documentation of clinical results before we can get behind a diet product.
The Bottom Line
We are excited to see a diet bar that is low in calories, but when compared to other products on the market today, we feel that Access Bars fall short. After all, these bars only contain two grams of protein and one gram of fiber. Furthermore, they contain both sugar and sugar alcohol, which will certainly deter some people.
If you want to see faster weight loss results, we advise you to go with a diet bar or weight loss supplement that is backed by real clinical studies, contains proven ingredients and is not hard on your wallet.
One of the finest fat-loss products we've come across in 2015 is Leptigen. This weight loss supplement contains four ingredients, which are proven in documented clinical studies to help increase fat loss and elevate metabolism. Moreover, we can't locate any discussion of harmful side effects and user responses posted online express people are seeing real results.
Also, the makers of Leptigen are so confident in their product they're offering a special trial offer, which is a good sign.