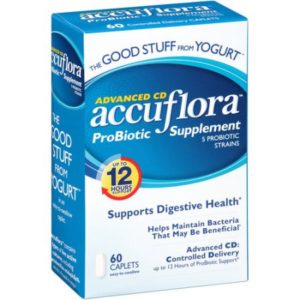 In the weeks that led to this review, I figured out whether Accuflora actually works. We at DietSpotlight conducted a thorough investigation, focusing closely on the side effects, ingredients, clinical research and level of customer care. We also checked out numerous user comments and responses from all over the internet. Finally, we summarized and condensed to give you the bottom line.
What is Accuflora?
To start with, there are all sorts of supplements, foods and drinks out there to help promote good digestive health. One product that falls into this group is Accuflora. It contains a probiotic blend, S thermophilus, L salivarius, bifidobacterium bifidum, L rhamnosus, lactobacillus acidophilus and maltodextrin. This dietary supplement aims to replenish healthy bacteria in the digestive tract, assist with regularity, and help you maintain an internal balance. You just need to take two caplets per day.
The company behind Accuflora is Church and Dwight Co., Inc. This product is made in the USA, and is available via online dealers like Vitacost.com, Amazon and Drugstore.com. It is free of wheat, soy, gluten, eggs and nuts. Also, this supplement is said to provide 12-hour digestive support, but read on…
Side Effects – "Are You Concerned?"
One concern we have is with Accuflora side effects. "Some users have reported adverse reactions such as bloating, diarrhea, digestive cramps, constipation and nausea," says our Research Editor.
One customer stated, "My wife tried these, and she experienced bloating and constipation. Didn't work at all."
But, a different person said, "I give it three stars. But, when my husband and I both took 2 tablets, Accuflora caused diarrhea."
"Although the product was somewhat effective, the side effects caused me to stop using it," commented another.
Scroll below for one of the best products we've seen over the last year.
No Real Results – "Uh Oh"
Another issue is no real results. This may have to do with Accuflora ingredients. One user reported, "Made me very bloated, and I didn't see any change. I don't recommend this product."
Then again, a different person said, "These were just okay to me. But I won't buy them again."
Another revealed, "I'm not sure I liked it or disliked the pills. Maybe if I would've taken it for more than one month."
The research we've done has shown if there is a certain part of a diet supplement or digestive health product that is very concerning or bothersome (side effects, no real results, high cost) the odds of long-term success are not very good. In other words, if Accuflora probiotic does in fact cause adverse reactions in a lot of people, this could be a real problem.
The Science – "Solid?"
We at DietSpotlight like to see some documented science that backs up the product and its claims. As for Accuflora, we were unable to locate any published research that supports this digestive health formula. However, this supplement does contain probiotics, which may potentially help balance bacteria levels in the digestive tract.
The Bottom Line – Does Accuflora Work?
So, should you pull out your credit card and order Accuflora? Well, we like that this formula contains probiotics to benefit the digestive system. It's also good to see that this supplement is easy to obtain through several online stores. However, we have some doubts because it's not backed by any clinical studies. Also, we're concerned about the side effects that some customers have reported.
If you'd like to get rid of those excess pounds, then we encourage you to go with a product that does not cause any harmful side effects, is backed by solid science and is supported by numerous user testimonials.
Among the best products we've seen in 2016 is one called Leptigen. Its formula is a proprietary blend of four powerful ingredients, which have been shown in published clinical research to help increase fat loss and ignite metabolism. We have not found any negative user reviews, and comments around the web indicate people are seeing solid results.
The makers of Leptigen are so sure about their product they're offering a Special Trial Offer, which is a positive sign.