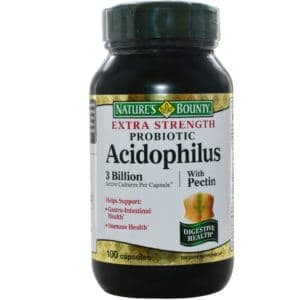 Why are people talking about Acidophilus? We examined the ingredients, side effects, research, and customer-service quality to create this comprehensive review. We additionally scrutinized various user comments from all over the internet. Finally, we narrowed down all of the data we collected to give you the facts.
What is Acidophilus?
First thing, Acidophilus is a naturally occurring bacteria found in the gastrointestinal tract of humans. A variety of medical conditions as well as the use of antibiotics can change the levels in the stomach and intestines and cause various symptoms.
Acidophilus is made by many different companies and sold as a probiotic. They have traditionally been marketed to help restore the microbiome to an optimal state and relieve gastrointestinal discomfort. However, recent research has indicated a potential link between bacteria levels in the stomach and intestines and obesity levels. Some of the research is promising, but read on…
Sources!– "Is it Better From Food?"
The first concern is that most of the testing that has been completed used live bacteria derived from food rather than that used in supplement. According to our Research Editor, "There has been promising testing completed linking weight-loss and bacteria levels in the microbiome. However, more is needed with specific supplements to prove efficacy."
According to one dieter, "I didn't lose any weight when I used Acidophilus supplements. I didn't notice anything at all."
Another user commented, "I was told probiotics could help me lose weight but it didn't work."
However, there were some users who were hopeful about the efficacy of the supplements. "My doctor told me to eat yogurt with live bacteria in it but that's gross so I tried these instead. Maybe it will work the same."
Other users had more positive experiences, "I felt less bloated almost immediately."
"I feel like my cravings are better now, so I think it's helping," said another.
Scroll below for one of the best products we've seen over the last year.
Side Effects– "Are They Worth It?"
Maintaining optimal bacteria levels in the intestines is important for good digestive health. Some consumers find that they have more issues when that balance is upset.
One unhappy consumer said, "A day after I started taking these I had the worst gas ever. I couldn't keep using them."
Another dieter claimed, "I broke out into hives on day two and had to give up."
Others had a more positive experience, "My stomach was a little upset at first but after a few days I felt much better and I ended up losing a few pounds."
Some were quite happy with their experience, "I'd been super constipated before taking these and now everything is flowing again. I even lost some weight."
Another happy customer said, "It worked fine without any side effects."
According to our research, things like unsubstantiated claims and side effects can really make a lasting impression on consumers. Details like this matter in one's overall impression of a product and a company. If Acidophilus doesn't work as claimed, a dieter will move on to something better.
The Science – "Is it a Weight-Loss Product?"
At DietSpotlight, we need to see proof before we are able to recommend a weight-loss supplement to our readers. The studies that have been done mostly indicate this bacterium helps promote a healthy digestive system. But that doesn't make it an effective treatment to help you lose weight.
The Bottom Line – Does Acidophilus Work?
Is it time to clear the shelves of Acidophilus? While there is certainly some promising research about it's to promote a healthy gut microbiome which may lead to weight-loss in some individuals, that has only been tested with food products. No supplement companies have proven their product provides a similar benefit. We have reservations about giving the green light to promote weight-loss.
If the time has come to jumpstart your metabolism you may want to check out a product that has ingredients that have been shown to help support weight-loss. We believe a well-rounded product has a strong customer service focus, good value, and works as intended.
Among the best products we've seen in 2016 is called Leptigen. It has a combination of four active ingredients, which are supported by clinical testing and shown to help boost fat loss and increase metabolism. We were not able to find any negative user reviews online, and our research indicated people are seeing fantastic results without harmful side effects.
The manufacturers of Leptigen are so confident in their product they're offering a Special Trial Offer, which is very reassuring.