Updated: 09/29/2015 - Sponsored by Leptigen
Activit Multivitamin Review - Does This Diet Supplement Actually Work?
Are lack of weight loss results and ingredient side effects deal breakers?
PUBLISHED: 09/10/2015 | BY: SUMMER BANKS, SENIOR REVIEWER
Editor
's Review:
2.5
/ 5.0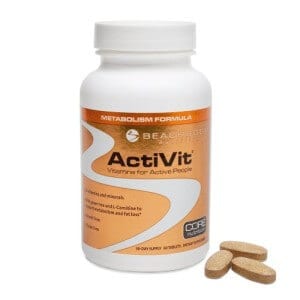 You may have noticed all kinds of attention surrounding ActiVit Multivitamins. All this buzz encouraged us to do a comprehensive review, examining the side effects, ingredients, clinical studies and quality of customer service. Furthermore, we spent hours reading through hundreds of customer reviews and user responses posted on the web. Finally, we then summarized all the facts to provide you with the info you need.
EDITOR'S TIP:
Combine Activit Multivitamin with a proven fat burner such as
Leptigen
for better results.
What You Need To Know
ActiVit Multivitamins are made by Beachbody, a company that dates back to 1998. This supplement provides 22 vitamins and minerals, as well as key ingredients such as; Green Tea Extract, Hawthorne Berry, L-Glutamine, Cayenne Fruit, Inositol, DMAE L-Methionine and Choline. When taken daily, this supplement aims to boost immune system health, increase physical energy, promote a healthy metabolism and enhance muscle recovery. Furthermore, the antioxidants in this multivitamin may help combat damaging free radicals.
ActiVit Multivitamins have been available since 2008. This product is suitable for both women and men. Furthermore, it's easy to acquire this supplement through the official website for $29.95 (plus $4.95 for sipping/handling), but read on…
Lack of Real Weight Loss Results
According to our Research Editor, "After looking at dozens of customer reviews concerning ActiVit Multivitamins, it's clear that a lot of people are not seeing any weight loss results."
One customer commented, "Did not improve metabolism or energy."
Another complained, "Did not have increased energy or performance." Yet another user stated, "I saw NO effect with these pills and was disappointed that I wasted $35."
Scroll below for one of the best products we've seen in 2015.
Side Effects – Be Careful!
We couldn't help but notice that the ingredients used in this supplement are causing side effects in numerous customers. In fact, one dieter said, "No matter how hearty of a meal, these vitamins always made me sick. I went from taking 2 pills to 1 and then to just half of a pill and I still felt ill after taking them."
"I am sick to my stomach and just puked everything I had in my system after taking the vitamin," said another customer.
Our research has revealed that if an individual part of a diet supplement or weight loss program is very bothersome or concerning (lack of real results, bad side effects, dangerous ingredients) the probability of substantial weight loss for a prolonged period of time is slim. This means if ActiVit Multivitamins do cause side effects in numerous people, this could be a major problem.
The Science
Unfortunately the official Beachbody website does not provide any scientific studies that support ActiVit Multivitamins for weight loss purposes. Since we at DietSpotlight need to see published clinical results, we would not recommend this vitamin supplement for weight loss purposes. There is simply no real science to support it.
The Bottom Line
Some people prefer to take a daily multivitamin supplement, but ActiVit Multivitamin is certainly a high-priced option. Especially when you can buy a multivitamin for around $10 or less at the local drugstore. In short, there is no evidence that ActiVit Multivitamins actually increase metabolism or boost energy levels as claimed. According to the customer feedback we found online, this supplement can even make you sick.
If you'd like to see more significant weight loss results, we recommend you choose a diet supplement that contains proven ingredients, is backed by positive user reviews and does not cause side effects.
Among the finest diet products we've noticed in 2015 is Leptigen. It contains a proprietary blend of four important ingredients, which have been shown in documented clinical studies to speed up fat loss and increase metabolism. We also want to point out that we have not found any talk of unpleasant side effects and user comments posted online show people are seeing excellent results.
Also, the makers of Leptigen are so confident in their product they're offering a special trial offer, which is a good sign.