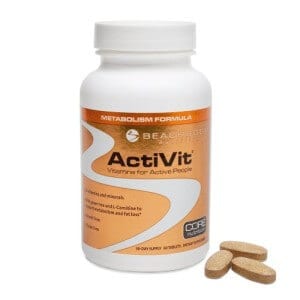 I'm here to cut through the noise and get you to the bottom line on ActiVit Multivitamins. We analyzed side effects, ingredients, clinical studies and quality of customer service. Additionally, we examined hundreds of user comments and reviews. Then, we summarized and refined to give you the info you need.
What You Need To Know
First off, ActiVit Multivitamin contains green tea extract, hawthorne berry, L-glutamine, cayenne fruit, inositol, DMAE, L-methionine, choline, vitamins and minerals, . When taken daily, it aims to boost energy levels. One benefit is that both men and women can use the supplement.
ActiVit Multivitamins have been available since 2008 and brought to market by Beachbody. It's easy to acquire this supplement through the official website for your Beachbody coach. We like that is seems affordable and that we located some favorable customer comments, but read on…
Lack of Results – "Weight-Loss?"
The first concern was the lack of results from the ActiVit Multivitamin ingredients. According to our Research Editor, "After looking at customer reviews concerning ActiVit Multivitamins, it's clear that a lot of people are not seeing the results they expected."
"Did not improve metabolism or energy," commented a customer.
"Did not have increased energy or performance," reported another.
Scroll below for one of the best products we've seen over the last year.
Side Effects – "From Vitamins?"
Some customers were talking the presence of ActiVit Multivitamin side effects. One dieter said, "These vitamins made me sick. I went from taking 2 pills to 1 and then to just half of a pill and I still felt ill after taking them."
"I am sick to my stomach after taking the vitamin," said another customer.
Our research has revealed that if an individual part of a diet supplement deemed concerning, like negative side effects, the chances of long-term success is slim. If ActiVit Multivitamins do cause adverse reactions, this could be a major problem.
The Science – "Evidence?"
Unfortunately the official Beachbody website does not provide any scientific studies that back ActiVit Multivitamins for weight-loss purposes. We know there are some ingredients, like green tea, are supported by solid science; just not relating to this formula. Since we at DietSpotlight need to see published results, so there is simply no real reason to stand behind this one because none exists.
The Bottom Line – Does ActiVit Multivitamin Work?
So, should you log on and order this one? Well, we like that ActiVit Multivitamin contains some natural ingredients and that we found some positive comments, but we're concerned because there's no clinical studies linking it to weight-loss. We're also skeptical due to customers reporting ineffective ingredients and negative side effects.
If you'd like to see more significant weight-loss results, we suggest a supplement containing some clinically-tested ingredients, with no mention of adverse reactions.
Among the best products we've seen in 2016 is one called Leptigen. It contains some clinically-tested ingredients, which have been shown to help ignite fat loss and increase metabolism. We also want to point out that we have not found any talk of unpleasant side effects and user comments posted online show people are seeing excellent results.
Also, the makers of Leptigen are offering a Special Trial Offer, because they are quite confident you'll love the formula.