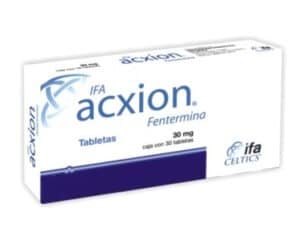 It's been a long journey but I feel I'm now qualified to advise you on whether or not to take Acxion. There has been a lot of discussion about these diet pills, so we wrote an in-depth review, examining the side effects, ingredients, clinical studies and overall customer service. Furthermore, we scrutinized countless dieter comments and reviews found on the web. Lastly, we condensed all of the facts to give you the info you need.
What is Acxion?
First off, Acxion a prescription weight-loss drug containing phentermine hydrochloride. This medication should be taken as directed by your doctor and supposedly helps with appetite suppression. It is small enough to take with you anywhere.
Acxion appears to have been released around 2012. It's only available at pharmacies in Mexico. Furthermore, it's good to see that diet and exercise are recommended and that it's only available with a prescription, but read on…
Side Effects – "Watch Out?"
The first issue pertains to Acxion side effects. "Dieters should be aware of the potential adverse reactions that can occur while using these prescription medications," said our Research Editor. "They may include insomnia, nervousness, elevated blood pressure, heart palpitations and irritability."
One user complained, "The side effects are dry mouth, and I did get constipated the first day. I've been drinking a ton of water which makes me feel a little bloated and pee a lot."
Another said, "They affected my mood and energy."
If you're looking for the other side of things, we found some who didn't experience negative reactions. "In the beginning, we experienced dry mouth very badly. But that has gone away. Neither of us have had any other side effects," said a dieter.
As one user put it, "I feel normal. I don't feel jittery, I don't get sick, I don't get tired."
Scroll below for one of the best products we've seen over the last year.
Negative Customer Reviews – "Common Problem"
After doing some online research, it's evident that many dieters have bad things to say about Acxion. One user said, "I've tried Acxion and really had no response at all. My appetite was exactly the same. I wish it had worked."
Another dieter said, "Acxion does nothing for me at all."
There are also positive reviews for the diet pill. A user who lost weight said, "The pills do work as long as you exercise and eat healthy."
Another didn't see the scale move, but there were changes. She said, "I probably have lose inches because I feel my cloths loose now…but my weight is still the same."
Our research has proven that if a certain aspect of a diet pill is especially troublesome, such as negative user reviews, long-term weight-loss is slim. Therefore, if Acxion does cause a lot of people to complain about bad reactions, this could be a serious concern.
The Science – "Is It Proven?"
There is some documented research presented on phentermine, the active ingredient in Acxion. While it's been shown to help with appetite suppression, you may need to add diet and exercise to see long-term results. We at DietSpotlight look for solid science prior to making suggestions. Although there are studies, there are also concerns with this one.
The Bottom Line – Does Acxion Work?
Are you ready for our final thoughts on Acxion? We  like that we found some positive customer comments and that there's some solid science to support the claims, but we're skeptical about this one because there a list of negative side effects that could occur. We're also a bit hesitant due to negative customer reviews.
If you really need to shed some pounds, we suggest going with a supplement containing clinically-tested ingredients and no mentions of harmful side effects.
Among the best products we've seen in 2016 is one called Leptigen. This supplement contains four clinically-tested ingredients, which have been shown  to help increase fat loss and kick-start metabolism. Moreover, we can't find any customer feedback regarding harmful side effects and dieter comments indicate people are seeing wonderful results.
It's positive that the makers of Leptigen are confident enough in their product to offer a Special Trial Offer, nice option.