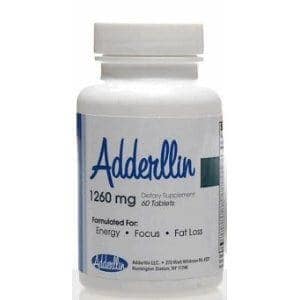 If you haven't looked carefully at Adderllin, now's your chance. We at DietSpotlight took the time to create a comprehensive review, scrutinizing the side effects, ingredients, customer care and scientific research. We also read dozens of user comments and responses from all over the web. At last, we summarized and condensed everything in order to give you the facts and details you really need.
What is Adderllin?
First of all, Adderllin is marketed as a powerful supplement that increases energy levels, improves focus and aids with weight-loss. It contains B vitamins, guarana, bitter orange, yohimbe bark, choline dihydrogen citrate, l-carnitine, bacopa extract, l-tyrosine, caffeine, dimethylaminoethanol, white willow bark, piperine, vinpocetine and huperzine. This product can be taken daily (two tablets). It's actually boasted as an alternative to the prescription drug Adderall.
It appears that Adderllin was released around 2010. This supplement is made by Adderllin, LLC. This company is located in Huntington Station, NY. It can be used by both men and women alike. Also, it is easy to use/take anywhere, but read on…
Ingredients – "Anything to Worry About?"
The first concern we have is with Adderllin ingredients. "This supplement contains a combination of bitter orange and caffeine (a stimulant), which can cause adverse reactions, in some people" says our Research Editor.
WebMD states, "Bitter orange, particularly when taken with stimulants such as caffeine or caffeine-containing herbs, increases the risk for high blood pressure, fainting…and other…side effects."
However, one customer said, "Seems to help some. I will finish the bottle and then decide if it's worth the money."
Another posted, "Makes me jittery and nauseated, but I think it increases focus and stamina."
Scroll below for one of the best products we've seen over the last year.
Side Effects – "Yikes"
Another issue is Adderllin side effects. Some users experience jitteriness, rapid heartbeat, anxiety, insomnia, nervousness, nausea and increased blood pressure. In fact, one person said, "Not worth the adverse effects. I am all jittery and can't sleep."
Then again, a different user revealed, "Gives you a jolt of energy. Works pretty well before workouts."
"Some side effects like fast heartbeat and headache. But, it does help minimize food cravings," posted another individual.
According to our research, if there is a facet of a supplement that's irritating, like jitters or shakes, the probability of results for the long haul is low. In other words, if Adderllin does in fact cause side effects in a lot of people, this could be a deal breaker.
The Science – "Any?"
Adderllin does contain bitter orange and other stimulants. Therefore, this product may help elevate energy levels. However, there are some safety concerns regarding the ingredients in this formula. Taking this energy supplement comes with the potential for side effects in people who're sensitive to caffeine and the like. We at DietSpotlight like to see products that are both effective and safe.
The Bottom Line – Does Adderllin Work?
Now the moment you've been waiting for. This is our bottom line on Adderllin. Firstly, we like that this supplement is available without a prescription. We also appreciate that it's easy to use anywhere. But we have some doubts about it because it's not backed by any studies. Also, we're concerned about the ingredients it contains. Not to mention the side effects some users have reported.
If your goal is to boost physical performance, increase energy and boost metabolism then we suggest you find a product that is backed by solid science, does not contain any questionable ingredients and will not lead to harsh side effects.
Among the best products we've seen in 2016 is one called Leptigen. It contains four clinically-tested ingredients. These have been shown to help boost metabolism and ignite fat loss. There are no negative user comments online, and customer feedback on the web shows people are seeing solid results.
The makers of Leptigen are so sure of their product they're offering every customer a Special Trial Offer.