Updated: 09/29/2015 - Sponsored by Leptigen
Addrena Review - Does This Energy and Fat-Loss Supplement Work?
Are dangerous ingredients and negative user reviews deal breakers?
PUBLISHED: 08/21/2015 | BY: SUMMER BANKS, SENIOR REVIEWER
Editor
's Review:
3.5
/ 5.0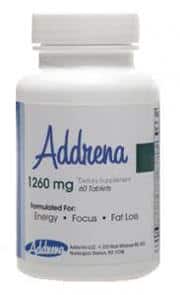 We've seen a lot of discussion regarding Addrena pills, so we dug deep and produced a thorough review, focusing closely on the ingredients, side effects, scientific research and customer-service quality. We also made a great effort to read hundreds of dieter comments and user reviews from all over the web. Lastly, we summarized all of the facts and customer feedback to give you the info you need.
EDITOR'S TIP:
Substitute Addrena with a proven fat burner such as
Leptigen
for better results.
What You Need To Know
Addrena is a dietary supplement that aims to boost energy levels, enhance mental focus and encourage fat loss. This product is intended to increase the flow of neurotransmitters, while providing herbal stimulants and increasing the body's core temperature. You only need to take one tablet per day (630 milligrams). As for the ingredients used in Addrena, they include the following; Huperzine, Vinpocetine, Piperine, White Willow Bark, Dimethylaminoethanol, Caffeine, Acetyl-L-Tyrosine, Bacopa Extract, Acetyl-L-Carnitine, Choline Dihydrogen Citrate, Yohimbe Bark Extract, Bitter Orange (Citrus Aurantium), Guarana, Vitamin B12 and Vitamin B3.
This supplement was released back in 2009 and it is available through the official website for $39.99 (60 tablets). Addrena contains natural ingredients, and there are some customer testimonials posted on the main website, but read on…
Dangerous Ingredients – Be Careful!
According to our Research Editor, "Addrena clearly contains some questionable ingredients that can lead to side effects such as nausea, dizziness, fast heartbeat, insomnia and even heart attack or stroke. These ingredients include Bitter Orange and Huperzine."
One user said, "This made me hot and tingly and then dizzy and nauseous for hours. Even after I puked it up I felt drained for the rest of the day."
Another dieter complained, "First time I took it, put me in a bad mood and I felt very nauseas."
Scroll below for one of the best products we've seen in 2015.
Negative Customer Feedback
After doing some research, we discovered that many customers had negative things to say about Addrena tablets. One dieter said, "Honestly I thought this was a sugar pill it didn't help me at all … I even tried taking up to 4 at a time … did nada."
"Did nothing at all for me. Waste of my money," said another user.
According to our extensive research, if there is one facet of a weight loss supplement or diet program that is very bothersome (dangerous ingredients, too many negative reviews, a difficult exercise) the chances of fat loss success for the long run is slim. This means if Addrena causes too many dieter complaints, this could be a major problem.
The Science
Although Addrena is certainly explained well on the official website, we could not find any actual clinical evidence that proves this supplement works as claimed. Therefore we cannot get behind this diet formula. Furthermore, at DietSpotlight, we really need to see documented science that supports the product's weight loss claims.
The Bottom Line
We appreciate that Addrena is a natural supplement that aims to improve focus and burn off fat, but we definitely don't recommend this product. After all, this supplement contains some dangerous ingredients that should not be overlooked. Bitter Orange, which contains Synephrine, is often compared to Ephedra (a banned ingredient). Also, there is no science supporting this formula.
If you'd like to get rid of more body fat and slim down now, we recommend you select a supplement that does not contain dangerous ingredients and is backed by clinical research.
Among the highest-rated weight loss products we've encountered in 2015 is one called Leptigen. It uses a proprietary blend of four proven ingredients, which have been shown in documented clinical research to help boost metabolism and improve fat loss results. Also, we did not pinpoint any complaints regarding adverse effects and customer comments on the internet show people are seeing real results.
Also, the makers of Leptigen are so confident in their product they're offering a special trial offer, which is a good sign.