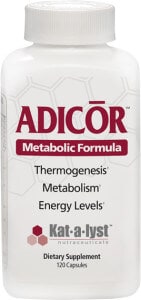 Why are people talking about Adicor? We decided to take a hard look at ingredients, side effects, scientific research and customer service quality. Additionally, we analyzed hundreds of customer comments and reviews. Then, we condensed and summarized to give you the info you need.
EDITOR'S TIP:
Substitute Adicor with a proven fat burner such as
Leptigen
for better results.
What is Adicor?
First off, Adicor is a dietary supplement containing caffeine, green tea, cordyceps sinensis, Siberian ginseng, guarana, vinpocetine, garcinia cambogia, hoodia godonii, St. John's Wort, 5-htp, dandelion root, uva ursi, juniper berry, buncgu extract, citrus aurantium, synephrine hcl, octopamine hcl, commiphora mukul, coleus forskholii, l-tyrosine akg, kelp, 3,5 diiodo l-tyrosine, ginger root, cayenne pepper, magnolia bark, phosphatidylerine, l-taurine, rhodelia rosea and bioperine. The recommended serving is three capsules, two times per day, supposedly resulting in increased energy and accelerated metabolism.
Adicor was first introduced in 2006 by Katalyst Nutraceuticals and contains some natural ingredients – impressive. You can only find it for purchase at local supplement stores. We like that we found some favorable customer comments and that it contains a few natural ingredients, but read on…
Ineffectiveness – "Losing Weight?"
The first concern was the ineffectiveness of Adicor ingredients. "This formula contains several ingredients known to help users lose weight," said our Research Editor. "But the combination isn't backed by studies, so the effectiveness comes into question."
"There's no dosage information available on the official website, so I don't know if it will work" commented a dieter.
"I have been taking Adicor for 4 weeks and gained 6 pounds. Yes, I have been exercising and eating healthy," stated a consumer.
Some dieters found that the supplement did help them to lose a bit more weight than expected. "Weight-loss cleanse for the summer. I worked for me," stated a user.
"My husband is taking Adicor and we both are seeing the lbs. drop off. He is almost done with 1st bottle," reported another.
Scroll below for one of the best products we've seen over the last year.
Side Effects – "Concerning?"
According to multiple customer comments on the web, Adicor side effects were a call for concern. "I've been taking it for 10 days and I have to stop. I get massive headaches, I'm nauseous and extremely dizzy," stated a user.
"I took Adicore for three weeks and decided it wasn't for me. Made my skin itchy all over and I ended up getting stomach pains," reported a dieter.
"I did not like the feeling this gave me. I was jittery and wish I had not taken the 2nd, lunchtime, pill," explained a customer.
Based on some customer comments, the side effects they experienced were a bit more positive. "I have been taking Adicor for about 5 weeks now I do have more energy, less cravings," reported a consumer.
"I really think it helps boost my energy and keeps me from being hungry," said another.
We're done the research and have found that any part of a supplement considered a concern, like causing adverse reactions, could reduce the chances of long-term success. If Adicor does in fact cause negative side effects, this could become problematic.
The Science – "Clinical Tests?"
Looking at the formula, we found science supports the effectiveness of caffeine, green tea and Bioperine. We also noticed the supplement contains "fad" ingredients such as hoodia and garcinia cambogia. Unfortunately, there's no published research showing the product will help you lose weight. At DietSpotlight, science-based evidence is a critical part of the review process. If there's none, we become a bit skeptical.
The Bottom Line – Does Adicor Work?
Do you still want to buy Adicor? Well, we like that the supplement contains a few natural ingredients and we found some favorable customer comments, but we're skeptical about this one because there's no clinical research supporting the weight-loss claims. Also, we're a bit concerned due to customer reports of negative side effects and ineffective ingredients.
If you're wanting to lose those extra pounds, we suggest a supplement with no reports of negative side effects and a formula containing some clinically-tested ingredients.
Among the best supplements we're encountered in 2016 is one called Leptigen. The blend consists of some clinically-tested ingredients, which have been shown to increase fat loss and accelerate metabolism; what's need to ignite weight-loss. There's no talking about adverse reactions, but some are seeing great results.
Also, as an excellent sign of confidence in their supplement, the makers of Leptigen are offering customers a Special Trial Offer.