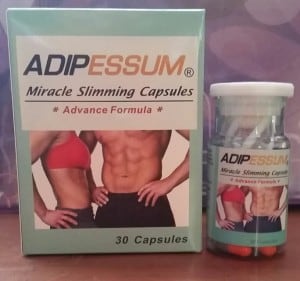 We've all struggled to find the right diet product. We've heard some rumblings about Adipessum, so we dove straight into the ingredients, side effects, customer service and clinical research. We navigated hundreds of consumer comments to find just the facts. We then refined and summarized to give you the info you need.
What You Need to Know
Firstly, Adipessum is a Chinese weight-loss pill marketed as a "miracle". Some of the ingredients in the supplement include kola nut, artichoke, astragalus root, cassia seed, lotus leaf and alfalfa. You're only required to take one pill a day and that's supposed to help you shed the pounds. Only taking it once means you don't have to take it with you, a benefit.
There's no information on when the product was formulated or who is responsible for the supplement. It looks like no synthetic ingredients are used, so that's one good thing. We were able to find it for sale on some third-party retailers, but there's no official website. We like that some dieters report seeing results, but read on…
Side Effects – "A Concern?"
Our first issue deals with Adipessum side effects. "You don't see your normal weight-loss ingredients in this one," says our Research Editor. "What you do have is a couple that can cause some pretty nasty reactions, even when taken short-term."
"The stuff is SO strong I can only take it every other day. It makes you feel crazy," says one dieter.
Aside from feeling off, the National Eating Disorders Association warns about long-term laxative use. "Laxative abuse causes the loss of water, minerals, electrolytes and indigestible fiber and wastes from the colon. If the chronic laxative abuser refuses to re-hydrate, she or he risks dehydration, which further taxes the organs." Adipessum contains cassia seed, which falls into this category.
Scroll below for one of the best products we've seen over the last year.
Lack of Information – "What Do We Really Know?"
If you're looking for verifiable information on Adipessum you could be in for a long night. We did find the product listed on some Chinese retail websites and on a few online stores, but there's no official website, no company – nothing.
When there's nothing to go on, the company can't earn trust. The FDA warns that the supplement market is laced with some tainted weight-loss products and that's the last thing you want to buy, but without information how do you know what you're in for?
"FDA has identified an emerging trend where over-the-counter products, frequently represented as dietary supplements, contain hidden active ingredients that could be harmful. Consumers may unknowingly take products laced with varying quantities of approved prescription drug ingredients, controlled substances, and untested and unstudied pharmaceutically active ingredients. These deceptive products can harm you! Hidden ingredients are increasingly becoming a problem in products promoted for weight loss."
Based on our research, if a program or supplement has just one issue, like zero company information, it slims your chances of long-term success. If Adipessum is created by some sketchy business, the dieter should not trust it for a minute.
The Science – "Valid?"
There are no research studies completed on Adipessum or the majority of the ingredients in the formula. At DietSpotlight, it's the science that divides the good from the bad. If there's no clinical support, there's no sale.
The Bottom Line – Does Adipessum Work?
So, what's the take on this one? Adipessum intrigued up quite a bit, but our conclusion was firm. We like that a few dieters report seeing good results with the supplement, but we have doubts about any product with zero company information. We're also concerned by the lack of clinical support and potential side effects.
If today's the day to lose more weight, we suggest you go with a supplement with no reported side effects from a company that's open, honest and trustworthy.
Among the best products we've seen in 2016 is one called Leptigen. We like the four-ingredient proprietary blend with published clinical research showing it helps boost metabolism and fat loss. We didn't find a single report of negative side effects, but we did find some amazing stories of weight-loss success.
Also, the company behind Leptigen is confident enough in the supplement to offer a Special Trial Offer, that's impressive.