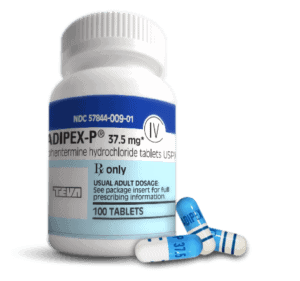 Give me two minutes of your time and I'll tell you whether Adipex-P actually works. We looked at the ingredients, clinical research, side effects, and customer service. Then, we also looked at reviews and comments. What you see you here is the information we found.
What is Adipex-P?
Firstly, this is an FDA approved appetite suppressant, available by prescription only. The main Adipex-P ingredient is phentermine. It works similarly to an amphetamine. Due to the stimulant nature, you should not take it after five or six in the evening.
Adipex-P is an appetite suppressant pill manufactured by Gate Pharmaceuticals. Founded in 1990, it serves as the American branch of the Israeli-based Teva Pharmaceuticals. It cannot be purchased in stores. We like that it is FDA approved and clinical supported, but read on…
Side Effects – "Yuck!"
The first issue is the reports of Adipex-P side effects. Even when minor, they can be bothersome enough for users to stop taking the medication. "Of course, not everyone will experience issues, but those that do may not stick with it for long," said our Research Editor.
"I had a horrible headache, I had nausea, jitters, my left eye was twitching uncontrollably, I felt so sick. My heart was beating extremely fast," explained one user.
"It would cause me to get shaky & slightly sick to my stomach," offered another.
Others didn't have side effects at all.
A dieter claimed, "I have been using this for about one year now and I use it for the energy it gives me all day. It does not bother at all when my head hits the pillow at night. I don't have any side effects at all. Really good stuff."
"I took these while eating right and exercising. While they didn't work for me as far as taking any weight off, they did provide me with energy and appetite suppression," as one more put it.
Scroll below for one of the best products we've seen over the last year.
Complaints – "Worrisome"
We've found several people complaining about Apidex-P. These tend to include stomach issues and ineffectiveness.
"It doesn't curb my appetite that much. I don't think I'm losing weight from appetite suppression, but it is probably giving me a little more energy for exercising," said a customer.
"They also sometimes upset my stomach, but cause no weight loss," shared a patient.
Others were happy with their results.
"I lost 15 lbs. in one week with the supplement alone; and had to remind myself to eat," said a reviewer.
"I have had wonderful results using this product and have lost 21 lbs with little to no effort. I do exercise every other day but this product does help me to eat less," claimed another.
Over the years, we've found it takes a small thing, like side effects, to send customers looking for something better. They may not continue using Adipex-P if it makes them feel bad.
The Science – "Clinical Proven For Long-Term Use?"
There is science to support Apidex-P for short-term use. While we're glad to see it works, it's likely not the best choice for those who have a significant amount of weight to lose as you can only use it for a few weeks. At DietSpotlight, we need to know dieters can use a product for at least a couple months to give them time to adopt new lifestyle habits. That's not available with this drug.
The Bottom Line – Does Adipex-P Work?
Should I race to the doctor for a bottle of Adipex-P? Since it's not available over the counter, you'll have to make an appointment with your doctor to see if you qualify as a patient who could benefit from it. There's a good chance you'll lose some weight in the few weeks you can use it, but if you're looking for a long-term solution, we have reservations about suggesting this is the one.
If you're ready to lose weight, we suggest turning to a weight-loss supplement that contains clinically tested ingredients known to help support your efforts. And for even better results, use it with diet and exercise.
Among the best products we've seen in 2016 is one called Leptigen. It's made using a proprietary blend of four key ingredients, all of which have been shown in clinical testing to help support a healthy metabolism, making it easier for you to lose weight. Plus, over the course of our research, we couldn't find anything negative about it or mentions of harmful side effects, which lets us know customers are happy with their results.
Right now, you can get in on a Special Trial Offer, exclusively from the makers of Leptigen.