Updated: 09/29/2015 - Sponsored by Leptigen
Adrenalize Review - Does This Fat Burner Really Work?
Are dangerous ingredients and side effects deal breakers?
PUBLISHED: 09/24/2015 | BY: SUMMER BANKS, SENIOR REVIEWER
Editor
's Review:
3.5
/ 5.0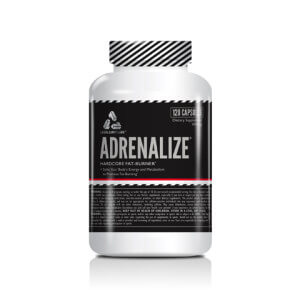 We've noticed a lot of talk about Adrenalize Hardcore Fat-Burner, so we conducted an in-depth review, examining the ingredients, side effects, scientific studies and customer-service quality. We also scrutinized all sorts of user comments and customer reviews found online. At this point we summed up all of the facts and details in order to give you the important information you actually need.
EDITOR'S TIP:
Substitute Adrenalize with a proven fat burner such as
Leptigen
for better results.
What You Need To Know
Adrenalize is a weight loss supplement made by Complete Nutrition, which is a "high-quality nutritional supplement" company located in Omaha, NE. This product is claimed to boost energy levels, increase metabolism and help with fat burning. In order to use Adrenalize, you need to take one capsule each morning and afternoon (with meals and a glass of water). This supplement contains; 5-HTP, Hordenine HCL, Cassia Herb Extract, L-Tyrosine, Bitter Orange Extract (contains Synephrine), R-Beta-Methylphenylethylamine, Eleuthero Root, Yohimbe Bark Extract, Uva Ursi Leaf, Dandelion Root, Amla Fruit, Green Tea Leaf Extract, Niacin, Thiamin and Caffeine Anhydrous.
This supplement first emerged around 2013 and is available from the official website for $59.99 (60 capsules). There are some customer reviews posted on the main website. Also, Adrenalize is a gluten-free supplement, but read on…
Dangerous Ingredients – Be Careful!
According to our Research Editor, "It's always important to closely examine the full ingredient label on each supplement you consider. Adrenalize contains dangerous ingredients such as Synephrine and Hordenine HCL, which is concerning. After all, these ingredients can cause side effects."
One customer reported, "It makes me extremely nauseated. Adrenalize also makes me dizzy at times and hard to focus."
Another user stated, "Heart was racing like crazy, scary stuff!"
Scroll below for one of the best products we've seen in 2015.
Side Effects – A Major Concern
It's evident that the ingredient blend used in Adrenalize capsules can lead to harsh side effects. According to one customer, "On the downside though this product gives me severe bloating and a buildup of gas."
"It causes me to be so jittery," said another dieter.
Our research has shown if there is one specific aspect of a diet supplement or weight loss program that is very bothersome (serious side effects, high price, dangerous ingredients) that the probability of weight loss success for the long term is low. This means if Adrenalize does in fact cause adverse reactions in a lot of people, this could be a serious problem.
The Science
We at DietSpotlight need to see documented clinical research that supports the diet product and its ingredients for weight loss. However, we could not pinpoint any scientific studies or clinical trial results pertaining to Adrenalize capsules. Therefore we cannot stand behind this "fat-burner" product.
The Bottom Line
We are excited to see that Adrenalize capsules may help improve energy levels, but we can't recommend this diet aid. First of all, this supplement clearly leads to adverse effects in some people. Also, a few of the ingredients found in this product are quite dangerous. For instance, Synephrine is considered the cousin to Ephedra (an ingredient that was banned for causing serious side effects).
If you'd like to shed more excess body fat and slim down now, we encourage you to choose a weight loss supplement that contains safe ingredients and is backed by real clinical evidence.
Among the finest products we've encountered in 2015 is Leptigen. This supplement uses a proprietary blend of four important ingredients, which have been proven in published clinical studies to encourage fat loss and increase metabolism. We did not find any complaints of harmful side effects and user feedback posted on the internet shows people are seeing solid results.
Also, the makers of Leptigen are so confident in their product they're offering a special trial offer, which is a good sign.