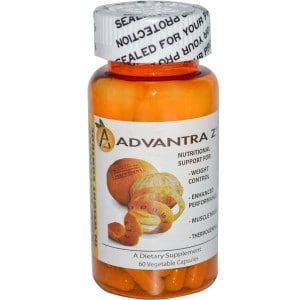 This review is what happened after I obsessed for weeks over Advantra Z. We put the spotlight on side effects, ingredients, clinical studies and level of customer service. Additionally, we examined hundreds of dieter comments and reviews. Then, we summarized and condensed the info to give you the info you need.
What is Advantra Z?
First off, Advantra Z ingredients are p-synephrine, n-methyltyramine, hordenine, octopamine and tyramine. It promotes weight-loss by increasing the breakdown of fat cells and boosting thermogenesis. You can find it listed as an ingredient in over-the-counter dietary supplements.
Advantra Z was touted as the "next generation ingredient" when it was introduced in 1996 by Nutritech. It's sold through supplement stores and at local retailers. We like that it's easy to locate and that we found some positive customer comments, but read on…
Adverse Effects – "Safety First"
The first concern we had was with Advantra Z side effects. "The ingredients in this one act similar to several stimulants on the market," said our Research Editor. "Some people have complained of nausea, headache, heart palpitations, jitteriness and high blood pressure after taking it."
According to WebMD, "When taken with stimulants such as caffeine or caffeine-containing herbs, increases the risk for high blood pressure, fainting, and other severe side effects."
One customer commented, "This stuff is not safe! Makes my heart pound like crazy!"
We found some users that didn't notice negative side effects while using Advantra Z.
"No headaches, anxiety or irritability," commented a dieter.
Scroll below for one of the best products we've seen over the last year.
User Complaints – "Not a Positive"
The comments posted about Advantra Z weren't always positive. One person said, "Way too many side effects from this stuff. No thanks. It's not worth it."
"My doctor told me this product is not safe, so I can't really use it for weight-loss," said another.
On the other hand, some users shared their positive experiences using it. "It gives me the boost I need in the morning. I remember not to drink any coffee though," reported a customer.
"It's cheap and effective. That's all I care about," stated another.
Our extensive research has revealed that if there is a certain aspect of a weight-loss pill that's concerning, like negative customer comments, long-term success could be reduced. If customers aren't happy after using Advantra Z, there's a problem.
The Science – "Solid?"
For us at DietSpotlight, we need to see some clinical research that actually supports the product we're investigating. Fortunately, we did locate some clinical studies that support the effects of Advantra Z in regards to weight-loss. This ingredient does appear to boost thermogenesis, especially when combined with stimulants such as caffeine. However, on the downside, adding the two stimulants together can increase the risk of side effects.
The Bottom Line – Does Advantra Z Work?
So, should you run out and buy Advantra Z? Well, we like that there are some clinical studies connecting the herb to weight-loss, but we're concerned about this one because the same research shows it causes harmful side effects. We're also a bit skeptical about it because of the negative customer comments and reviews posted online.
If you'd like to drop more weight, then we suggest going with a supplement not connected to harmful side effects, contains clinically proven ingredients promoting weight-loss and is backed by positive user reviews.
Among the best products we've seen in 2016 is one called Leptigen. This product promotes weight-loss by offering a blend of four key ingredients, which have been shown to help accelerate fat loss and elevate metabolism. We can't find any comments about harmful side effects and user feedback reveals people are seeing excellent results.
The makers of Leptigen are so confident about their product, they're offering a Special Trial Offer, which is a positive sign.