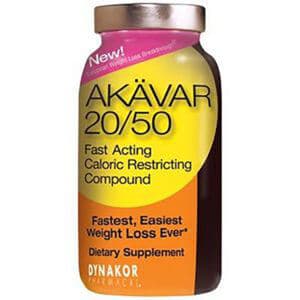 Akavar 20/50 company employees, have you ever taken your own product? Here at DietSpotlight, we did one of our in-depth reviews, scrutinizing the side effects, ingredients, clinical research and overall customer care. We additionally spent hours reading various user remarks and comments from around the web. At last, we compacted all of the facts and feedback we found in order to give you the bottom line.
What You Need To Know
First off, Akavar 20/50 ingredients are xanthine, guarana seed, cocoa nut, Tibetan ginseng, yerba mate, ginger root, green tea extract and kola nut. This diet supplement is claimed to reduce your appetite so you consume fewer calories. This formula may also help boost metabolism and increase energy levels. It's suitable for both women and men alike. No eating plan or fitness regimen is recommended.
After doing some digging, it's clear that Akavar 20/50 has been around since at least 2008. This supplement was originally sold with a money-back guarantee. It's manufactured in Europe, and there are dozens of helpful user comments posted on the web. Moreover, no prescription is needed, but read on…
Side Effects – "An Issue?"
The first issue that concerned us was with adverse reactions. According to our Research Editor, "Akavar 20/50 ingredients can lead to some unwanted side effects. These may include jitteriness, rapid heartbeat, anxiety, headache, nausea, stomach pains, nervousness and insomnia."
One customer reported, "It does nothing that it claims to and was a supreme waste of money. I actually gained weight and it made me very fatigued."
"I did some research on the functions of the active ingredients and found that it contains substances that relax flat muscle tissue. I believe these compounds impede the function of muscles in the digestive tract, as well as larger muscle groups. I'll never buy it again," stated a user.
However, not all users experienced Akavar 20/50 side effects. One person said this, "No jitters, just takes my hungers down a notch or two."
"It's okay so far. No adverse effects. Increases my energy and alertness," commented another.
Scroll below for one of the best products we've seen over the last year.
Weight Gain – "Something Else To Consider"
A few customers actually complained of weight gain from taking Akavar 20/50. This is very concerning to say the least. One user mentioned, "Taking 2 capsules 15 minutes prior to a main meal, which for me was 4 to 6 pills daily. I have gained 8 pounds since using this product."
On the other hand, a different person reported, "I have had good results thus far with Akavar 20/50."
Another posted, "While I have lost some weight with this, I constantly feel like my heart is going to beat out of my chest. It's uncomfortable. Do not consume any additional caffeine with this product or you will regret it."
The extensive research we've done has revealed that if there's a certain facet of a diet pill or weight management program that's especially bothersome (side effects, weight gain, poor BBB rating) the chances of lasting results are minimal. Therefore, if Akavar 20/50 does in fact lead to adverse reactions in a lot of people, this could be a deal breaker.
The Science – "Any At All?"
First of all, the green tea and caffeine found in Akavar 20/50 may help boost metabolism. On the other hand, we could not find any clinical studies that pertain directly to this weight-loss formula. This is unfortunate, because we at DietSpotlight prefer to see some actual research that backs up the specific supplement we're reviewing.
The Bottom Line – Does Akavar 20/50 Work?
So, should you pull out your credit card and order this one? Well, we do like that this weight-loss supplement is easy to purchase online. We also appreciate that this formula contains natural herbs. Then again, we have some reservations about this diet pill because it's not backed by any clinical studies. Also, we're concerned about the Akavar 20/50 side effects and weight gain that some users have experienced.
If you'd like to drop more pounds, then we suggest you select a product that contains clinically tested ingredients for weight-loss, does not lead to any harmful side effects and certainly does not cause any weight gain.
Among the best products we've seen in 2016 is one called Leptigen. This supplement offers four key ingredients, which have been shown in documented clinical studies to help improve fat loss and elevate metabolism. We can't find any discouraging user comments online, and user feedback around the web shows people are seeing significant results.
The makers of Leptigen are so satisfied with their product they're offering a Special Trial Offer, which is a good sign.