Updated: 09/29/2015 - Sponsored by Leptigen
All Day Energy Greens Review - Does This Diet Shake Supplement Really Work?
Are foul taste and lack of clinical evidence deal breakers?
PUBLISHED: 09/18/2015 | BY: SUMMER BANKS, SENIOR REVIEWER
Editor
's Review:
3.5
/ 5.0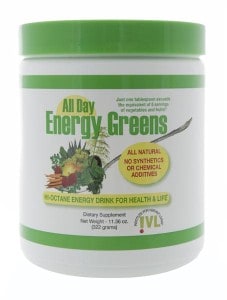 We've encountered plenty of discussion concerning All Day Energy Greens shake powder, so we wrote a detailed review, examining the ingredients, side effects, customer service and scientific studies. Moreover, we read through plenty of user responses and customer reviews posted online. Finally, we summarized all the facts in order to give you the information you need.
EDITOR'S TIP:
Combine All Day Energy Greens with a proven fat burner such as
Leptigen
for better results.
What You Need To Know
All Day Energy Greens is a powder supplement made by the Institute for Vibrant living, a company located in Camp Verde, AZ. This supplement is claimed to do the following; promote alkaline/acid balance, provide antioxidant support, boost immunity, improve digestion, elevate energy levels and support weight management. It contains all sorts of natural plant and vegetable extracts, and these include; Ginger Root, Grape Seed, Green Tea, Organic Dulse, Enzyme Blend, Suma Root, Royal Jelly, Milk Thistle, Damiana Leaf, Organic Brown Flaxseed, Organic Beet Root, Red Raspberry Leaf, Chlorella Algae, Parsley Leaf, Aloe Vera, Spirulina Powder, Alfalfa Leaf and Organic Barley Grass Powder. To use this supplement, you add one scoop to 6-8 ounces of water (take once a day with food).
All Day Energy Greens has been around since 2008. It's available directly through the official website for $79.98 (11.36 ounces). This company's history of litigation by the state of California does worry us. Also, this product provides vitamins and minerals from various fruits and vegetables. Not to mention, All Day Energy Greens is all natural, but read on…
No Clinical Evidence to Support Claims
According to our research editor, "While it's wonderful to see that All Day Energy Greens powder contains an array of plant ingredients to help nourish the body, there is no actual clinical proof that this supplement works to improve health, weight and vitality as claimed on the website."
One user stated, "After taking the product for almost a week I do feel different, I FEEL LIKE AN IDIOT!!! The taste is horribly sweet and the only weight I lost is because of the diarrhea it produces me. I also have to mention the poisoning levels of lead that this product has in every scoop. Last but not least, don't waste your time on trying to get your money back, it is really of no use."
Another complained, "I took this product faithfully for a month and it produced no discernible increase in my energy."
Scroll below for one of the best products we've seen in 2015.
Foul Taste
We noticed dozens of customer complaints regarding the taste of All Day Energy Greens. In fact, one user said, "The taste is horrible. If you can't drink it . . . you can't reap the benefits. Don't get me started on the texture – think sand."
"This stuff tastes nasty. It tastes so bad and mixes so poorly that it feels gross in my mouth and taste so bad I have to force myself to swallow it," said another customer.
According to our intense research, if there is some specific part of a weight loss supplement or diet program that is very bothersome (a painful/difficult exercise routine, no clinical research, bad taste) the chances of long-term weight loss success is slim. In other words, if All Day Energy Greens tastes unpleasant to a lot of dieters, this could be quite problematic.
The Science
After reviewing the company website for All Day Energy Greens, we noticed that there is no actual scientific research to support this supplement. In fact, this product is not even FDA regulated. We at DietSpotlight need to see published clinical evidence that a supplement has been proven to do what it claims regarding weight loss and overall health. Sadly none is presented for this product.
The Bottom Line
It's certainly nice to see that All Day Energy Greens is made from all natural ingredients and provides some vitamins and antioxidants. However, we can't recommend this product for weight management and boosting energy levels. There is simply no scientific research to support this. Also, there are countless customer complaints posted on dealer websites such as Amazon. Moreover, this shake is quite pricey.
For dieters that need to shed more pounds and get fit quickly, we encourage you to select a dietary supplement that is backed by real clinical studies, does not cost you a fortune and is supported by positive customer reviews.
Among the highest-rated diet products we've spotted in 2015 is one called Leptigen. This supplement contains four key ingredients, which have been shown in documented clinical studies to encourage fat loss and speed up metabolism. Also, we didn't find any complaints regarding harmful side effects and dieter reviews around the web prove people are seeing wonderful results.
Also, the makers of Leptigen are so confident in their product they're offering a Special Trial Offer, which is a good sign.