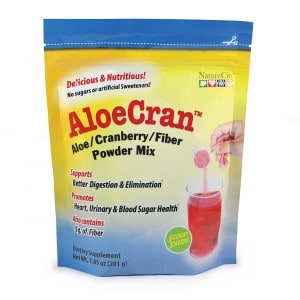 Why are people talking about AloeCran? We took a hard look at ingredients, side effects, scientific research and customer service quality. Additionally, we focused on hundreds of customer comments and reviews. Then, we refined and summarized to give you the info you need.
EDITOR'S TIP:
Click here
to combine AloeCran with a proven fat burner such as Leptigen for better results.
What You Need to Know
First off, AloeCran is a dietary drink containing ACT IValoe aloe vera, PACran cranberry powder, Fibersol glucose polymers, malic acid, stevia leaf, luo han guo fruit, beet juice powder and natural flavors. After mixing one scoop with water and consuming once per day, the supplement supposedly helps with digestion, blood sugar maintenance and enhances overall health and wellness.
There's no mention as to when AloeCran was first introduced in the market, but the company behind the product, NatureCity, offers a variety of wellness supplements, a good start. You can purchase it on the official website for approximately $30 for a 30-day supply as well as through trusted retailers. We like the inclusion of natural ingredients and that we located some favorable customer comments, but read on…
Product Availability – "Can't Purchase Everywhere!"
The first concern was the availability of AloeCran. "When a company touts the benefits of a supplement, customers become eager to buy it," said our Research Editor. "But if the product isn't easy to purchase and not readily available, this could lead to bigger concerns."
An upset customer reported, "I have been trying to purchase AloeCran, but not having any luck."
"I have tried to purchase through Nature City and Amazon but was told they don't ship to Australia," reported another.
We found that some customers couldn't locate the supplement, but other consumers located the supplement and placed additional orders. "I have been using AloeCran for over 6 months now and just ordered the special 4 jars again," stated a user.
One customer mentioned, "Used up one jar of AloeCran and have ordered 6 more."
Scroll below for one of the best products we've seen over the last year.
No Proven Ingredients – "No Results?"
According to customer comments on the web, AloeCran ingredients didn't help with weight-loss. "The closest they come is a natural fiber known as fibersol-2. This can help you to improve regularity and bowel movement. But that is not actually a move toward weight loss results," said a user.
"This does not even begin to make up for the fact that they do not have any valid weight loss ingredients. They don't have any fat burners, appetite suppressants, or anything else," stated a user.
Another reported, "They have no weight loss components."
While some users didn't notice weight-loss, others reported seeing improvements in digestion. "So good for my digestion," stated a customer.
"I have more energy and a lot less indigestion than before using it," commented another.
We've researched countless supplements and have found that anything considered a concern, like a formula not helping with weight-loss, could reduce the chances of long-term success. If AloeCran doesn't show results on the scale, this could become problematic.
"Backed by Science?"
The official website offers a wealth of information relating to the supplement, including benefits, AloeCran side effects and even usage. What's missing from the equation is published clinical research showing the product helps dieters lose weight. There's solid science to back adding fiber to your diet, but not as it relates to this particular formula. At DietSpotlight, scientific studies are critical to the review process. If there aren't science-based facts, we become skeptical.
The Bottom Line – Does AloeCran Work?
Are you about to mix up a glass of AloeCran? Well, we like that the supplement contains a few natural ingredients and that we located some positive customer comments, but we're hesitant about this one because of the lack of published clinical studies proving it helps with weight-loss. We also have concerns about the availability of the product and the ingredients not being as effective as claimed.
Are you looking to lose those extra pounds? If so, consider a supplement containing some clinically-tested ingredients and readily available.
Among the best products we've come across in 2016 is one called Leptigen. The supplement contains a four-ingredient clinically-tested blend, which has been shown to help boost metabolism and increase fat loss. No one is talking about negative side effects, while some customers are reporting exceptional results.
Plus, the company that makes Leptigen is so confident in their supplement, they're offering customers a Special Trial Offer, impressive.