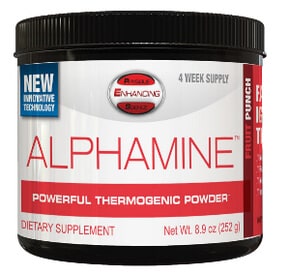 Bottom Line: You want to lose weight with a product that works, not just says it will work. In my never-ending search to discover the best diet product, this week I reviewed Alphamine. We did some serious research and took an in-depth look, examining the side effects, ingredients, scientific studies and level of customer care. We also took a look at plenty of user comments from around the web. Finally, we summed up all the facts and dieter responses to give you the info you need.
EDITOR'S TIP:
Substitute Alphamine with a proven fat burner such as
Leptigen
for better results.
What is Alphamine?
To start, Alphamine is a "powerful thermogenic powder" that is made by Physique Enhancing Science. The ingredients are choline bitartrate, alpha-hydroxyisocaproic acid, eucommia ulmoides extract, olive leaf, caffeine anhydrous, nelumbo nucifera seed, yohimbe bark and higenamine. It is available in flavors such as cherry lemonade, fruit punch and raspberry lemonade. Put simply, it is intended to increase fat loss and function as a powerful stimulant. You add one scoop to 4-5 ounces of water and consume 15-30 minutes prior to breakfast. A second dose can be taken five hours later if needed.
From what we gathered, Alphamine has been available since 2012. This supplement is for sale through several online stores and plenty of customer reviews are posted on the web. Furthermore, this product contains some natural plant extracts, but read on…
Questionable Ingredients – "Proceed With Caution?"
The first thing we considered with Alphamine ingredients was the potential for health issues. "After taking a close look at the label for the powder, we noticed that this supplement contains some questionable elements such as higenamine, which can lead to heart problems, in some cases," says our Research Editor.
One customer revealed, "This stuff makes me feel like what I imagine smoking a whole bunch of crack would make you feel like."
"The side effects, specifically nausea, are simply too severe for me," said another user.
Scroll below for one of the best products we've seen over the last year.
Reported Side Effects – "Something to Notice"
According to the customer feedback we found on distributor websites like Amazon, there are certainly cause some Alphamine side effects.
One user stated, "This stuff gave me a voracious appetite. The first week I used it – I gained 4 pounds."
Another dieter commented, "Made me having a nervous cracked out type of feeling even at lowest recommended dosage. Would not recommend this product."
Our research has shown that if one aspect of a fat-loss supplement or weight-loss program is significantly concerning (questionable ingredients, serious side effects, unpleasant taste) the odds of long-term success are slim. This means if Alphamine does lead to adverse reactions in a lot of people, this could be a serious dilemma.
The Science – "Clinical Proof?"
We at DietSpotlight prefer to see published clinical science that back a diet product and its ingredients. However, we were unable to find any studies that support Alphamine for fat loss and weight reduction. What we did find is an extensive warning label on the bottle, which is a concern.
The Bottom Line – Does Alphamine Work?
So, is it time to run out and but this supplement? Even though Alphamine is available in a few different flavors and is easy to purchase online, we have doubts recommending this one for safe and effective weight-loss. Not only does it contain potentially dangerous ingredients, but there are also numerous negative user reviews posted on the web. These factors should not be overlooked.
If you would like to drop some serious fat and rock your best body, we recommend you choose a diet formula that contains safe ingredients, does not lead to side effects and is clinically proven.
Among the best products we've seen in 2016 is one called Leptigen. This weight-loss pill contains a proprietary blend of four unique ingredients that have been proven in documented scientific research to encourage fat loss and kick-start metabolism. We did not pinpoint any customer complaints concerning harmful adverse effects and dieter feedback posted on the web reveals people are seeing solid results.
Also, the makers of Leptigen are so confident in their product they're offering a Special Trial Offer, which is a good sign.
Leptigen is available around the world with reliable, fast worldwide shipping. For customers in Australia, the UK, and others, simply choose your country from the drop down menu on the order page. That's it – simple!