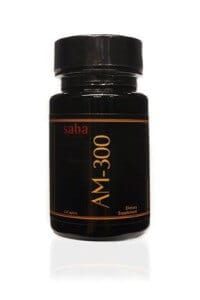 We've been hearing a lot of buzz about this one. AM300 has generated a lot of interest, so we decided to conduct an in-depth review. We looked at the ingredients, side effects, customer service, and clinical research to gather the information we needed. We read through every comment we could find. Then, we condensed and refined to give you the bottom line.
What You Need to Know
First off, AM 300 contains ingredients are bladderwrack, picolinate, green tea extract, gotu kola, and more. The formula is designed to lower cholesterol, increase energy, lower blood pressure, burn fat, and improve overall health. The product comes in easy to consume tablets, and it is to be taken multiple times per day for optimal results. Many users love the convenience because it can be taken anywhere.
AM300 has been around since the 1990s, and it has a number of positive reviews online. It uses some good ingredients, and it's readily available from online health stores and third-party retailers, but read on…
Lack of Results–"Not the Same Formula"
Our first issue deals with Am300 ingredients – they may not be effective. Back in the 1990s, many people were dropping weight quickly and easily with AM300, but then something in their proprietary blend changed. "With the ephedra ban, AM300 had to change the formula, and users are no longer seeing the results it was known for," said our Research Editor.
"I lost a lot of weight with this 12 years ago and thought I'd try it again, but it's not the same formula. I can't lose any weight now," said one user.
"A lot of people lost weight with this in the 90s when the formula contained ephedra, but now it doesn't seem to offer the same results," claimed another.
Scroll below for one of the best products we've seen over the last year.
Negative Side Effects–"Another Concern"
Something else that caught our eye was the high percentage of negative side effects that people saw with AM300. "I tried taking this product, but I had jitters and my heart was pounding so I had to stop," said one disappointed customer.
"They took out the ephedra, but this is still causing multiple negative side effects for me. Stay away from AM300," said another. Some reviews offered advice for those trying this product that are worried about the side effects:  "Start off slow to make sure your body doesn't react to the ingredients, and increase dosage if your body can handle it."
Throughout our studies, we've found that if there is something particular about a diet that is troublesome (negative side effects, difficult routine, expensive product, etc.), the likelihood of losing weight and keeping it off is slim. If AM300 really does have some adverse reactions, it could make it difficult for those looking to lose and keep it off.
The Science – "Validated?"
AM300 claims to offer safe and effective weight-loss, but most of the science we can find on the ingredients is inconclusive. The best one in the formula is green tea extract. At DietSpotlight, we like to see proven research behind a product's claims, so in this case we saw red flags.
The Bottom Line – Does AM300 Wrk?
Are we running out for this supplement? We like that AM300 has a long history and that it's easy to find online, but we are hesitant to recommend it to our readers without strong scientific support showing that its ingredients will help you lose weight. We're also concerned about the change in formula, reported side effects, lack of results that users have seen.
If you'd like to hit your goal weight with a product that does offer safe and effective weight-loss, we recommend you find a one that offers proven weight-loss backed by scientific testing. Strong customer reviews are also important.
Among the best products we've seen so in 2016 is one called Leptigen. It offers a proprietary blend of four ingredients that may help with burning fat and boosting metabolism. Users are leaving some amazing comments about results and the customer service department is easy to reach.
If you're interested in losing weight with Leptigen, it's currently being made available in a Special Trial Offer, which proves that the makers of this product are confident in the formula.