Updated: 09/29/2015 - Sponsored by Leptigen
Ambislim PM Review - Does This Nighttime Weight Loss Formula Actually Work?
Are absence of real science and fad diet ingredients deal breakers?
PUBLISHED: 09/12/2015 | BY: SUMMER BANKS, SENIOR REVIEWER
Editor
's Review:
3.5
/ 5.0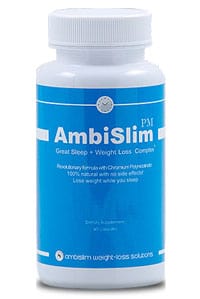 You may have noticed a lot of buzz surrounding Ambislim PM, so we did some serious research and created an in-depth review, scrutinizing the side effects, ingredients, overall customer care and clinical studies. We additionally examined all sorts of customer reviews and dieter comments from around the web. At this point we summed up all of the facts and responses to give you the bottom line.
EDITOR'S TIP:
Substitute Ambislim PM with a proven fat burner such as
Leptigen
for better results.
What You Need To Know
Ambislim PM is touted as a 100 percent safe weight loss supplement that only needs to be taken once each night (two capsules with a glass of water 60-120 minutes before bedtime). This diet aid is intended to stimulate fat loss, suppress appetite and enhance sleep quality. The actual ingredients used in Ambislim PM include; Valerian Root, Passion Flower, Chamomile Extract, Garcinia Cambogia, Hops Flower, Jujube Extract, Melatonin, Coleus Forskohlii, Chromium Polynicotinate, Guggulsterones, Green Tea, Ashwagandha, Cinnamon, Slimaluma and Phenibut. Ambislim PM sells for $19.95.
This diet formula has been around since 2007, and some customer testimonials are posted on the official website. Fortunately there is a 90-day money-back guarantee provided with Ambislim PM. Also, you do not have to follow a special diet plan with this formula, but read on…
No Real Science
"There is no clinical data presented on the official website to support Ambislim PM for weight reduction. Furthermore, the ingredients used in this supplement are not even revealed (we had to obtain them from another website). Therefore no evidence is provided to show this diet pill actually works," says our Research Editor.
According to one user, "Does nothing. Haven't lost one pound in the two weeks I have been taking it. Don't waste your money, trust me!"
Another customer stated, "This product is a total scam it didn't do one thing that they said it would do I wasted my money on this don't make the same mistake."
Scroll below for one of the best products we've seen in 2015.
Fad Diet Ingredient – A Big Concern
Ambislim PM contains key ingredients such as Garcinia Cambogia to assist with weight loss, but there is no real clinical evidence supporting this fruit extract as an effective fat loss aid. One user said, "These things don't work!! I eat extremely healthy but can not lose my last 8 lbs. I work out 5 days a week and run on top of that! I went through 3 bottles of these and still seen no results."
"Wish I could get a refund, does not work, not happy at all and would like to tell people not to buy this product," said another dieter.
Our research has revealed that if one specific aspect of a diet pill or weight loss system is very bothersome (fad weight loss ingredients, a difficult exercise, no real clinical research) the probability of long-term weight loss effects is quite low. So, if Ambislim PM does use fad diet ingredients that do not yield real results for numerous customers, this could be a deal breaker.
The Science
Although Ambislim PM uses natural ingredients and is claimed to be 100% safe, there is no solid clinical proof that it works as claimed. After examining the company website, it's clear that this supplement is not backed by real science. Since we at DietSpotlight like to see documented clinical evidence supporting the weight loss formula, this is a big problem for us.
The Bottom Line
The official website for Ambislim PM does answer a few questions about this diet pill, and it is nice to see that natural ingredients are used. However, we strongly believe that the ingredients should be listed on the main website. Not to mention, there is no real science supporting this diet product, which is never a good thing. You should also consider the numerous customer complaints about Ambislim PM not working as claimed.
Those who are anxious to shed more pounds and slim down quickly, we recommend you go with a weight loss supplement that is supported by clinical trial results, does not contain fad diet ingredients and is affordable as well.
One of the finest weight loss products we've spotted in 2015 is Leptigen. This diet formula uses a blend of four proven ingredients, which have revealed in published scientific studies to help stimulate metabolism and speed up fat loss. You should also be aware that we have not found any talk of negative side effects and user feedback on the web shows people are seeing significant results.
Also, the makers of Leptigen are so confident in their product they're offering a special trial offer, which is a good sign.