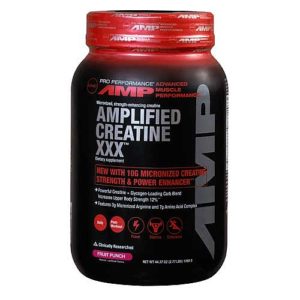 You're about to learn everything you need to know about Amplified Creatine XXX. We did one of our in-depth reviews, examining the ingredients, side effects, customer-service quality and clinical studies. We additionally sorted through numerous user responses and remarks from around the web. At this point, we compressed all of the information we found to give you the facts you need.
EDITOR'S TIP:
Click here
to combine Amplified Creatine XXX with a proven testosterone booster such as Pronabolin for better results.
What is Amplified Creatine XXX?
To start, Amplified Creatine XXX is advertised as a "pro performance" supplement that improves muscle size and strength. This post-workout formula is intended to help increase power, boost endurance levels and improve stamina. It contains key ingredients such as micronized creatine monohydrate, an amino acid complex, carbohydrates and trans resveratrol. In order to use this product, you simply add two scoops of powder to eight ounces of water. It should be consumed immediately after your workouts. It can also be used on non-training days (in the morning).
It appears that Amplified Creatine XXX has been on the market since at least 2011. This workout supplement is made by GNC. It's available in fruit punch flavor, and can be purchased via the official website. There is a return policy provided as well, but read on…
Sweeteners – "Concerning?"
One concern is the Amplified Creatine XXX ingredients. According to our Research Editor, "This fitness supplement contains 33 grams of sugar per serving, which is a lot. Some customers have complained about the overly sweet taste."
One user said, "This stuff is way too sweet. Has both Dextrose and Sucralose. Don't like the taste."
On the other hand, a different customer commented, "The fruit punch flavor isn't bad. Works pretty well."
Another posted, "It's okay, but I've used better creatine supplements."
Scroll below for one of the best products we've seen over the last year.
Adverse Effects – "Another Concern"
Another issue is Amplified Creatine XXX side effects. In fact, one user stated, "This product gives me bad muscle cramps and dehydration. Not sure if that's normal. My trainer says it's not."
However, a different customer said, "Works pretty good. You just have to make sure you use it right after your workouts."
"Not bad, but they need other flavors. Don't care for the fruit punch Amplified Creatine XXX," revealed another.
According to our research, if there is a certain aspect of a fitness supplement or testosterone product that is very difficult or concerning (added sweeteners, adverse effects, high cost) the likelihood of long-term success is slim. Therefore, if Amplified Creatine XXX does in fact taste too sweet or unpleasant to a lot of people, this could be a real problem.
The Science – "Any Provided?"
At DietSpotlight, we need to see some published science that backs up the product we're reviewing. As for Amplified Creatine XXX, there is clinical research mentioned on the container. However, we did not find any documented studies for this specific supplement provided on the company website. There is, however, some research presented on creatine and amino acids in general.
The Bottom Line – Does Amplified Creatine XXX Work?
So, should you race out to the store and buy Amplified Creatine XXX? First off, we like that this muscle-building supplement is easy to purchase at local GNC stores. It's also good to see that a return policy is provided. On the other hand, we have some issues with this fitness product because it contains a lot of sugar. Furthermore, we're concerned about the adverse effects that some people have reported. Not to mention the unpleasant taste.
If you really want to heighten physical performance, build lean muscle and boost stamina levels, we recommend you choose a product that's supported by documented research, does not cause any harsh effects and is not overloaded with sweeteners.
Among the best products we've seen in 2016 is one called Pronabolin. It contains a combination of nine ingredients, which are shown in clinical studies to help increase muscle strength, boost vitality and elevate natural testosterone levels. We have not found any user complaints online, and customer comments around the web show people are seeing substantial results.
The makers of Pronabolin are so sure of their product they're offering every customer a 120-day money-back guarantee and multiple-bottle discounts.