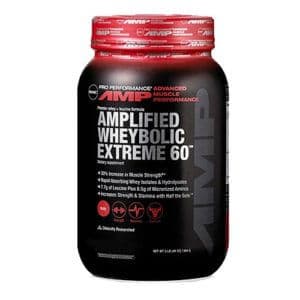 Why are people talking about Amplified Wheybolic Extreme 60 protein shakes? Well, we at DietSpotlight did one of our in-depth reviews, examining the ingredients, side effects, clinical studies and customer-service quality. Plus we looked at hundreds of user responses and comments from all over the web. Lastly, we summarized and condensed to give you the facts and details you need.
What is Amplified Wheybolic Extreme 60?
First off, Amplified Wheybolic Extreme 60 is marketed as a "pro performance" supplement. It's said to improve muscle strength, boost energy levels and stamina, and help amplify your workouts. This powder formula contains amino acids, whey protein isolate, digestive enzymes, l-carnitine and glutamine. You simply add one packet to four ounces of water, stir and drink. It can be used up to three times daily for maximum results. Each serving provides 20 grams of protein.
The brand behind Amplified Wheybolic Extreme 60 is GNC. However, we are not sure when this supplement was first released. Each serving only contains 90 calories and 0.5 grams of fat. This product may help promote healthy digestion. It's available in chocolate flavor, but read on…
High Price – "Is It Affordable?"
The first issue we have is with the price. According to our Research Editor, "Amplified Wheybolic Extreme 60 sells for $23.99 for six packets. If you take the recommended three servings per day, this will only last for two days. Obviously this will get very expensive over time."
One customer stated, "You can use the entire box in only a few days. This would cost me a fortune."
However, a different user said, "Good quality protein supplement. I like the Amplified Wheybolic Extreme 60 ingredients. I will keep using it."
Another commented, "It's a bit costly, but works for me. I will likely buy it again."
Scroll below for one of the best products we've seen over the last year.
Unpleasant Taste – "Yikes"
Another concern is the unpleasant taste that some users reported. For example, one person said, "Can't stand the pasty texture and gritty taste of this one. For the high price, I do not feel it is worth it."
Then again, a different customer posted, "Not bad. I have had a lot of protein shakes. This one works well when combined with heavy lifting."
"The flavor is okay. No Amplified Wheybolic Extreme 60 side effects except gas. It does however leave a funky taste in my mouth," mentioned another.
Our extensive research has shown if there is some particular part of a protein supplement that's irritating (high price, unpleasant flavor, side effects) the chances of real success for the long term are not good. So, if Amplified Wheybolic Extreme 60 does in fact taste bad to a lot of people, this could be a serious dilemma.
The Science – "Solid?"
We were unable to pinpoint any clinical studies pertaining to Amplified Wheybolic Extreme 60. However, this product does contain protein and amino acids. Therefore, it should help with muscle building and maintenance on some level. On the other hand, there is no proof that it aids with fat loss.
The Bottom Line – Does Amplified Wheybolic Extreme 60 Work?
Okay, now the moment you've been waiting for. Here is our bottom line on Amplified Wheybolic Extreme 60. To begin, we like that this protein supplement is easy to find in GNC stores. We also like that it can help with muscle building and recovery after workouts. However, we have some reservations because it's quite pricey in comparison to others. Also, we're concerned about the less-than-savory taste that some customers have mentioned.
If your goal is to shed some unwanted pounds, build muscle or increase energy then we suggest you select a product that does not have an unpleasant taste, is backed by solid clinical research and does not cost you an arm and a leg.
Among the best products we've seen in 2016 is one called Pronabolin. Its formula is a proprietary blend of nine unique ingredients, which have been shown in published clinical studies to help with muscle growth and recovery, testosterone levels and energy. We can't find any negative user feedback online, and user comments around the web indicate people are seeing great results.
The makers of Pronabolin are so confident in their product they're offering a multiple-bottle discount and 120-day money-back guarantee.