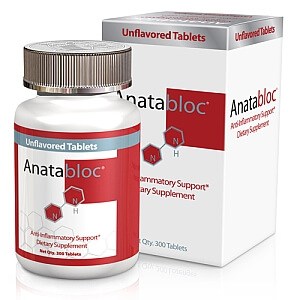 In the dietary supplement industry, don't mistake marketing for effectiveness. We at DietSpotlight did one of our comprehensive reviews on Anatabloc, examining the side effects, ingredients, clinical studies and level of customer care. We also read numerous user comments from the internet. Lastly, we compacted and summarized to give you the info you need.
What You Need To Know
First off, Anatabloc is an anti-inflammatory formula and it's actually the brand name version of anatabine, which is an alkaloid compound that is found in tobacco plants. This product can be taken up to six times daily (a maximum of 12 tablets) and it may help reduce the symptoms of pain linked to arthritis, chronic inflammation, Alzheimer's disease, Crohn's disease and other body aches. Specifically, it claims to address and treat cellular inflammation. It is sold in stores such as GNC. It costs around $100 (300 tablets). The amount needed daily really just depends on your body weight.
From what we gathered, Anatabloc is manufactured by Star Scientific Inc. (Rock Creek Pharmaceuticals). It has been available since 2012. This formula is fine for both women and men alike and unlike most pills and capsules, it dissolves in the mouth, which some people will appreciate. Also, you can easily purchase this product online, but read on…
Mild Side Effects – "A Consideration?"
Our first concern we had with Anatabloc is the mild side effects that some people experience. "There are some complaints about mild adverse reactions, such as excessive burping, weak urine flow and nausea," says our Research Editor.
"Since taking Anatobloc, I have been burping uncontrollably every time I eat or drink now," commented one user.
"I've noticed the product causes my urination flow to become very weak and also a burning sensation while urinating," said another person.
Scroll below for one of the best products we've seen over the last year.
User Reviews – "Some Negative"
There are some negative customer reviews posted on the web for Anatabloc. For instance, one individual stated, "The exorbitant cost alone will keep many from even trying this product."
"I cannot sleep when I take this product!," mentioned another user.
The intensive research we've done has shown that if there is a certain aspect of a dietary supplement or health product that is quite bothersome (mild side effects, negative user reviews, steep price) the probability of long-term success is slim. In other words, if Anatabloc does in fact lead to unhappy customers, this could be a serious dilemma.
Is There Any Real Science?
We were able to find some clinical research that supports the key ingredient used in Anatabloc, which is anatabine. Some studies have shown that this substance does help reduce inflammation. This is good to see, because we at DietSpotlight like to see some actual clinical studies that support the product we are reviewing. Unfortunately, there is no direct connection to weight-loss, unless you consider the pain relief in terms of performing exercise.
The Bottom Line – Does Anatabloc Work?
Now the moment you've been waiting for – our bottom line on Anatabloc. First of all, we appreciate that the ingredient is backed by some actual scientific research and this product is easy to obtain online. However, we have some reservations because some users have complained of negative side effects. There's also the fact that it is not proven to have an effect on weight-loss.
If you are interested in shedding excess pounds of fat, then we encourage you to choose a product that is backed by solid clinical research, does not lead to any unpleasant adverse effects and sells at a reasonable price.
Among the best products we've seen in 2016 is one called Leptigen. This supplement contains four powerful ingredients, which have been proven in published clinical studies to help kick-start metabolism and increase fat loss. We can't pinpoint any talk of harmful adverse effects and customer feedback around the web shows people are seeing solid results.
The makers of Leptigen are so excited about their product they're offering a Special Trial Offer, which is very reassuring.