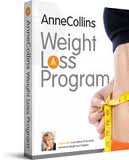 Anne Collins Review
Editor
's Review:
3.0
/ 5.0



What You Should Know
Click Here To See Our Highest Rated Review
The Anne Collins weight loss program is just $19.97 a year. With this program, you can loose all the weight you want. There are nine different plans in this program, so there is sure to be one that will fit your lifestyle and need. Anne Collins personally helps people meet their weight loss goal. She offers seven reasons to join her program. The reasons to join her program are listed below.
The Anne Collins weight loss program website provides many testimonials from customers who have used this program. Once you join the program, you will be given access to many pages with information, support group, and more. This site is loaded with information about the Anne Collins weight loss program. The reviews are all very positive and speak highly of the Irish nutritionist.
Ingredients
No Ingredients as this reviews a weight loss program, not a weight loss product.
Product Features
With the Anne Collins weight loss program, you will have access to over 600 pages of weight loss information. You will get support everyday for the entire year. Your membership will include access to Anne's forum. You will also get nine complete diet plans, so you can find the right one for you. The nine different diet options are
Low Carbohydrate Diet: Healthy diet for the fastest possible weight loss.
14 Day Low Calorie Booster Diet: Short term 1000 calorie per day limit to boost weight loss efforts.
No-Nonsense Balanced Weight Loss Diet: Balanced Diet and Weight Loss Plan for many.
Low Glycemic Diet: Perfect diet for people who need to lose weight and maintain blood sugar.
Cholesterol-Lowering Diet: Balanced diet meant to lower cholesterol levels.
10-Minute Meals Diet: Balanced Diet with quick recipes for those who are on the go.
Vegetarian Quick-Start Diet: Simple weight loss plan for vegetarians.
Diet for Life: Long term diet plan meant to be a lifestyle change
Vegetarian Diet for Life: Long term diet plan for vegetarians or those who wish to become a vegetarian.
Advantages
Great price for the program membership.
Nine plans available with the program.
Disadvantages
Can't find any kind of money back guarantee.
Conclusion
The Anne Collins weight loss program seems like a great program to join. It provides nine different plans and a lot of daily support, which someone on a diet needs. The price is only $19.95 for a full year which is much less expensive than several other weight loss programs, and is very manageable for many.
While the weight loss program may be beneficial, many people have more trouble with appetite than with finding a plan to follow. We suggest choosing a fat burner with a proven appetite suppressant be added to any successful eating plan.
GD Star Rating
loading...