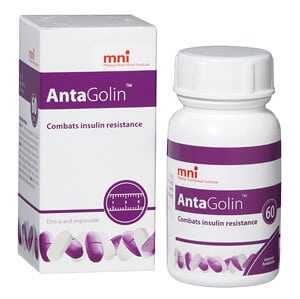 We've heard plenty of chatter about AntaGolin for diabetics, so we conducted an in-depth review, focusing closely on the ingredients, side effects, customer care and clinical studies. We additionally spent a great deal of time sorting through user comments and customer reviews from around the web. Lastly, we compressed all of the facts and feedback we discovered to give you the bottom line.
EDITOR'S TIP:
Combine Antagolin with a proven fat burner such as
Leptigen
for better results.
What You Need To Know
AntaGolin is a plant-based supplement that is geared toward individuals with diabetes. This product is intended to stabilize blood sugar levels, which in turn can help with weight loss. In other words, AntaGolin assists with insulin resistance. Lifestyle modification is encouraged with this supplement, which means diet and exercise. People who are pre-diabetic or have glucose intolerance can also take AntaGolin. This supplement contains the following ingredients; Alpha Lipoic Acid (150mg), Insul-X2 (200mg), Corosolic Acid 1% (500mg) and Banaba Leaf Extract. As far as dosage is concerned, this depends on your individual condition. You will likely take 1-3 tablets twice each day.
AntaGolin is made by Medical Nutritional Institute, which is located in South Africa. This product has been available since at least 2010 and it can be purchased in Namibia and South Africa. Also, AntaGolin can be acquired internationally, but read on…
Side Effects – Be Careful!
According to our Research Editor, "AntaGolin can lead to side effects such as constipation, diarrhea and gastrointestinal irritation. This is a warning posted clearly on the company website. According to some users, this product can lead to headaches as well."
One customer commented, "I tried Antagolin for a few days, got diarrhea and cramps."
"I started using Antagolin two days ago. I'm experiencing severe headaches which I know is a side effect," said another user.
Scroll below for one of the best products we've seen in 2015.
Lack of Availability – Another Concern
As you will notice on the official website, AntaGolin is not that easy to come by. In fact, it appears that this product is quite difficult to find. One person stated, "Does anyone know where you can buy this stuff?? It's nowhere online!"
According to another individual, "Where do you buy this product. I can't find it anywhere!"
Our research has revealed that if there is one specific facet of a diet product or weight loss program that is very burdensome or concerning (side effects, lack of availability, too many customer complaints) the odds of real success for the long term are not good. Therefore if AntaGolin does lead to adverse effects and is difficult for a lot of people to find/purchase, this could be a major issue.
The Science
We took a close look at the official Medical Nutritional Institute website to learn more about clinical research regarding this product. The website does mention a "series of 11 in-house observational studies" for AntaGolin. However, there are no details given in regards to the participants involved. Naturally we at DietSpotlight need to see documented clinical studies that reveal how the diet product or program works. With AntaGolin, there is simply not enough information provided.
The Bottom Line
We are glad to see that AntaGolin is intended for those who suffer from insulin resistance. However, we could not find much solid evidence that supports this product. Clearly this is a diabetic medication, so it's not for everyone trying to lose weight. Also, this product does not directly suppress appetite or burn off fat. We strongly encourage you to speak with a doctor before taking a product such as AntaGolin.
Those who would like to see solid weight loss results, we encourage you to go with a safe supplement that does not cause adverse effects, contains clinically proven ingredients and is supported by positive user reviews.
One of the top products we've seen in 2015 is Leptigen. Its formula is a proprietary blend of four key ingredients, which have been proven in documented clinical studies to help encourage fat loss and increase metabolism. Furthermore, we cannot find any talk of negative side effects and customer reviews around the web reveal people are seeing great results.
Also, the makers of Leptigen are so confident in their product they're offering a Special Trial Offer, which is a good sign.