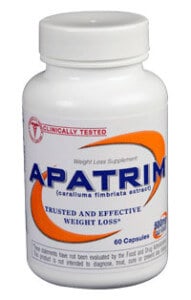 If you want the bottom line on Apatrim, just give me two minutes of your time. We decided to write an in-depth review, scrutinizing the ingredients, side effects, customer care and scientific studies. Then, we digested hundreds of dieter experiences and comments. At this point we compressed and refined to give you the info you need.
EDITOR'S TIP:
Combine Apatrim with a proven fat burner such as
Leptigen
for better results.
What You Need To Know
First off, Apatrim is a stimulant-free weight-loss formula from PatentHealth LLC, which is located in North Canton, OH. This supplement is advertised as a "breakthrough" for women and men trying to lose weight. The purpose is to control appetite so you eat fewer calories. The core ingredient is caralluma fimbriata, which is a cactus plant extract that's intended to suppress hunger and reduce food cravings. Apatrim should be taken twice a day, along with plenty of water. A single bottle costs $29.
Apatrim first showed up in 2011 and is conveniently available online. The key ingredient used in this diet pill is totally natural. Also, there are no harsh stimulants used in Apatrim capsules, but read on…
Ineffectiveness – "A Problem?"
The first warning we pass along to dieters about Apatrim ingredients is that some users are not seeing results. According to our Research Editor, "Apatrim contains caralluma fimbriata, which is a natural extract that has not been proven for weight-loss purposes. Therefore it's not surprising that numerous customers have complained that this supplement does not work."
One user said, "I see no difference in it suppressing my appetite."
Another complained, "I'm very disappointed because it has not reduced my hunger at all."
Scroll below for one of the best products we've seen over the last year.
Negative User Reviews – "Not Good!"
Many of the customer reviews we found online for Apatrim are not supportive. One dieter stated, "I purchased Apatrim and have been taking it for 3 weeks. It does absolutely nothing!! What a complete waste of my money."
"On the 4th week now..No weight-loss..This isnt the weight-loss they promise..Dont waste your money," said another user.
Through our research, we have proven that if an individual facet of a diet pill or weight-loss system is especially burdensome (unproven ingredients, bad taste, negative user reviews) the probability of real fat loss results is very minimal. In other words, if Apatrim results in a lot of poor comments, this could certainly be a serious issue.
The Science – "Clinical Proof?"
After doing some digging, we were unable to pinpoint any scientific studies pertaining to Apatrim for weight reduction. While we appreciate that no harsh stimulants are used in this formula, we must see documented clinical research regarding the diet product before we can recommend it for weight-loss.
The Bottom Line – Does Apatrim Work?
Hey now, should you jump into the car to race out for this one? While it's nice to see that Apatrim is free of harsh stimulants, there is really no proof that this weight-loss pill actually works. We also noticed that Apatrim is no longer available online and it appears that the company website is gone.
Those who need to lose more weight and get into shape right now, we encourage you to go with a dietary supplement that is backed by real science and is supported by positive user reviews.
Among the best products we've seen in 2016 is one called Leptigen. This weight-loss pill contains a unique combination of four ingredients, which have been proven in published clinical studies to help increase fat loss and ignite metabolism. We weren't able to find any complaints of harmful side effects and customer reviews around the web express people are seeing significant results.
Also, the makers of Leptigen are so confident in their product they're offering a Special Trial Offer, which is a good sign.