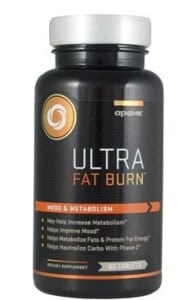 Fat burners have been making a lot of waves lately, probably because athletes, bodybuilders, and people looking to drop some pounds can all use them. Apex Ultra Fat Burner is one product that caught my attention, so I decided to do a careful review of the product. I looked for clinical studies, ingredients, side effects, and customer satisfaction; then I searched the web for comments and reviews from customers. Here's all of that information in a condensed format.
EDITOR'S TIP:
Substitute Apex Ultra Fat Burn with a proven fat burner such as
Leptigen
for better results.
What You Need to Know
Apex Ultra is a fat-burning supplement that includes caffeine, chromium, green tea extract, magnesium, dandelion, fucoxanthin, evodia, 5-HTP, guarana, and raspberry ketone. When a dieter ingests two pills twice per day (before meals), Ultra is supposed to increase metabolism and burn fat. One plus is that Apex Ultra Fat Burner is easy to use–no mixes, no shakes, and no meal replacements.
This particular supplement is actually made and sold through a popular fitness facility, 24 Hour Fitness. 24 Hour Fitness is a popular destination and has been voted as one of the nation's top fitness destinations. Apex can be purchased in a 24 Hour facility, but you can also find it around the internet from various retailers for a relatively low price. We like the ease of use associated with Apex Ultra, and the affordable price makes it a nice alternative, but read on…
Our First Concern–Does Apex Ultra Work?
We were confronted with some less-than-reassuring comments as we explored forums and comment sections. "While some of the ingredients listed on the label have yielded results for other products, the concentration of ingredients in Apex Ultra may not be high enough to yield definitive results," said our research editor. In particular, the supplement seems to lack enough green tea extract to render it effective.
"I have been taking these pills for about a month now and I have to say I don't feel as though anything major is happening," said one user.
"Doesn't work–I've even been exercising regularly, and barely any results," said another.
Scroll below for one of the best products we've seen over the last year.
"Look Out for the Caffeine"–Another Drawback
Whenever a supplement relies on caffeine to be effective, look out for related side effects. "I have to take it before lunch, otherwise I'm up all night," said one user. Consumers with a high sensitivity to caffeine should be extra-careful when taking a supplement.
Easing into the dosage is a good idea; that way you can figure out how your body will react. "If I take both servings, I get pretty jittery," said another dieter.
We've found that even moderate side effects when taking a supplement can reduce the long-term results exponentially. Customers who experience jitteriness, sleeplessness, or even a lack of solid results are not likely to find success down the road with a particular product. If you are at all sensitive to caffeine, be sure to carefully test the supplement's effect on you with small doses before jumping in with both feet.
The Science–Is There Evidence for Apex Ultra?
We looked for clinical studies on Apex Ultra but didn't find any. There are some studies suggesting that the individual ingredients in Apex Ultra have a positive effect on weight loss, but the proprietary blend used in Apex hasn't been studied at all. Without data showing that the quantities used in Apex are worthwhile, we can't know if the supplement is effective or not. As mentioned earlier, green tea extract has been shown to promote weight loss, but results are best when 300-350 mg are taken. Apex Ultra has only 270.
The Bottom Line–Does It Work?
So should you give Apex Ultra a try or not? We were initially interested in Apex Ultra–it offers some reliable ingredients at a relatively low price. After checking the user reviews, though, we aren't so sure–it doesn't seem to work all of the time, and the caffeine could pose a serious drawback for some dieters. Furthermore, there isn't any scientific data to suggest that Apex's proprietary blend works any more effectively than the hundreds of other options on the market. With so many options out there, we appreciate a product that sets itself apart from the competition with either new ingredients, new blends, or exceptional results.
If you still need a supplement to help you shed some pounds, we recommend going with a product that will give you concrete results in a timely manner. You need to know that your money is going to something that is proven to get results.
One such product is called Leptigen–it's actually one of our favorite supplements in 2016. It has four powerful ingredients that have been shown in clinical studies to burn fat and boost metabolism. Its proprietary blend doesn't seem to cause any harmful side effects, and the user reviews around the web look fantastic.
What's more, the makers of Leptigen are offering a special trial offer–it's always a great sign when the producers stand behind their product.