Updated: 09/29/2015 - Sponsored by Leptigen
Apidexin Review - Does This Weight Loss Supplement Really Work?
Are high price and terrible BBB rating deal breakers?
PUBLISHED: 09/19/2015 | BY: SUMMER BANKS, SENIOR REVIEWER
Editor
's Review:
2.6
/ 5.0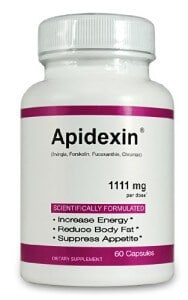 We've heard all kinds of talk about Apidexin diet pills, so we created a detailed review, examining the ingredients, side effects, customer-care quality and scientific research. Moreover, we read through dozens of customer comments and dieter reviews posted online. Finally, we summarized the information we found to give you the bottom line.
EDITOR'S TIP:
Substitute Apidexin with a proven fat burner such as
Leptigen
for better results.
What You Need To Know
Apidexin is a weight loss product made by R. Walker Companies, which is located in Orem, UT. This supplement is directed to be taken 30 minutes prior to breakfast and lunch (three capsules per serving is the maximum dosage). It's claimed to boost metabolism, reduce body fat and help you eat less food. As for the ingredients used in Apidexin, they include; Garcinia Cambogia, Green Tea, GreenSelect Phytosome Green Tea, Purple Tea with GHG, Natural Caffeine, Theobromine and Higenamine.
Apidexin was initially released back in 2008, and this diet formula is sold with a 90-day satisfaction guarantee. It's also good to see that this supplement contains some natural ingredients. Furthermore, some customer before and after photos are posted on the official website, but read on…
The Cost – Ouch!
According to our research editor, "While Apidexin sells on the official website for $49.95 per bottle (plus $4.95 for shipping and handling), you need to take six capsules per day to get the maximum benefits. Therefore a single bottle will only last you for 10 days, which means you will spend over $150 per month on this product."
One user said, "SCAM!!! BEWARE !!! I ordered just one supply and was changed over 200.00 – when I emailed customer service to let them know that there was a mistake and would like to cancel my order, they sent a email back stating that they would refund my money once I sent the unused bottles back. THEY WERE NOT EVEN SHIPPED YET!!!"
Another complained, "The bottle did not last me 2 weeks. That was over $50!!"
Scroll below for one of the best products we've seen in 2015.
BBB Rating is an F
There are quite a few customer complaints posted online for Apidexin. This is not really surprising when you consider their F rating by the Better Business Bureau. One dieter stated, "This pill is bullshit – I ordered it last Wed. and paid for overnight shipping. I have left about 3 messages, emailed them and nothing. There phone system is a little iffy – I don't even think that they have people working there because you cannot even wait on hold. I feel like this is a scam."
Another said, "Oh my lord, Took this pill today and it was horrible I started shaking in class, and was terribly moving. Also I had a slight pain in my chest close to the heart. My heart rate was also very accelerated. Thought I was going to die."
Our research has concluded that if one specific part of a weight loss pill or diet program is very troublesome (pills that make you jittery, high price, poor BBB rating) the probability of real weight loss success is low. If Apidexin frequently provides terrible customer service and causes side effects, this could be a big problem.
The Science
The company website for Apidexin leads people to believe that the ingredient blend used in this diet aid is effective for fat loss, but there is no clinical trial evidence that supports this. Here at DietSpotlight, if we can't find published scientific research supporting the product's ingredients, we only see big red flags.
The Bottom Line
It's nice to see that Apidexin uses some natural ingredients, but we don't recommend this supplement for weight loss because there is no real clinical data to support it. Also, we're concerned about the company's customer service quality. Then there is the fad diet ingredient Garcinia Cambogia, which is the main ingredient used in Apidexin pills.
If you really need to slim down and shed excess fat, we encourage you to choose a diet formula that is easy on your wallet, backed by clinical studies and does not lead to serious side effects.
A top diet product we've come across in 2015 is one called Leptigen. It offers a proprietary blend of four key ingredients that have been proven in published scientific studies to help accelerate metabolism and encourage fat reduction. Furthermore, we haven't seen any discussion of harmful adverse effects and user feedback on the web shows people are seeing terrific results.
Also, the makers of Leptigen are so confident in their product they're offering a special trial offer, which is a good sign.