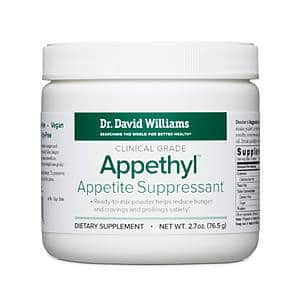 Appethyl is a dietary supplement that has really started making a name for itself, so we did one of our in-depth reviews to include side effects, ingredients, customer service and clinical research. Hundreds of comments were taken to heart. Then, we refined and summarized to give you the bottom line.
What You Need to Know
Firstly, Appethyl isn't a meal replacement plan, but it is designed specifically to suppress appetite. The product is supposed to support weight-loss by utilizing thylakoids; small organelles found inside green plant cells that can slow down the digestion process. It is easy to take; all you need to do is mix one scoop of the powder with water and take it before a meal high in fat. Only one serving is necessary per day. There is also a capsule option, which works as a nice alternative to the grainy powder.
Appethyl, which was introduced in 2013, won the award for "Best New Functional Ingredient" at the 2013 NutraCon conference, and it is now available in health stores, on its official website, and online on Amazon and similar retailers. We like the natural ingredient (thylakoids), and it seems like a fairly easy product to take, but read on…
Price – "Too High?"
The first issue we found in user reviews were reports of a big price tag for Appethyl. "You may see some appetite reduction if you take the supplement as directed," said our Research Editor, "But, it costs almost $60.00 for a month's supply."
"Very expensive product for the results I got," one user said.
Scroll below for one of the best products we've seen over the last year.
Efficacy– Another Concern
As with some dietary supplements, the promised results don't always come true for everybody. Upon sampling user reviews, we started noticing a theme. "I've been taking Appethyl faithfully as directed. My appetite has not changed, nor has the fat started shrinking as it promises."
"I know everyone is different, but I didn't have that much luck," said another. After further reading, it seems these negative reactions don't stand alone..
Although Appethyl shows a lot of promise, even one drawback to the product can hurt its long-term success. In this case, the pricing demands a significant commitment on the part of the user. If the cost sits too high for most people to commit to for very long, the chances of it helping them keep weight off aren't great.
The Science–Is It Solid?
The whole concept of thylakoids is rooted in science, and it appears that the effect on human appetites has been studied. Scientific research is not an issue here, but the relationship of the supplement to weight-loss might be. Appetite suppression is only one small part of the equation, and someone spending money on Appethyl may need more than that.
The Bottom Line – Does Appethyl Work?
Appethyl is certainly an exciting new product, and we are looking forward to seeing how it's used in the future. For now, though, the product only focuses on appetite suppression, which is a relatively small slice of the pie. Furthermore, Appethyl is quite expensive and doesn't work for everyone. These are more than enough to leave us with some reservations about recommending it.
We recommend two things in a supplement if you still need to shed some pounds – a good value for your money and a strong formula.
Among the best products we've seen in 2016 is one called Leptigen. Its proprietary blend of four ingredients may help boost metabolism and help you burn fat, based on a multitude of customer reviews.
Check out the Special Trial Offer; it's always reassuring when a company stands behind their product.