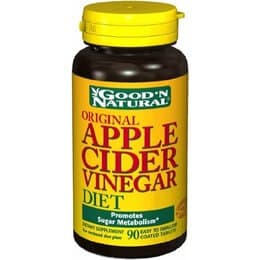 There has been all sorts of buzz lately about the Apple Cider Vinegar Diet, so we did some serious research and created a comprehensive review, examining the side effects, ingredients, clinical research and level of customer care. We also read through hundreds of dieter reviews and customer responses posted all over the internet. Finally, we condensed the facts and comments we found to give you the info you need.
EDITOR'S TIP:
Combine Apple Cider Vinegar Diet with a proven fat burner such as
Leptigen
for better results.
What You Need To Know
The Apple Cider Vinegar Diet is basically pushed as a natural approach to weight management. The claimed benefits of this diet are; reduced appetite, better digestive health, a stronger immune system, lower blood glucose levels, a clearer complexion, lower cholesterol levels and lessened acid reflux symptoms. In order to follow this diet method, you simply consume one tablespoon of Apple Cider Vinegar about 30 minutes prior to each meal. The vinegar is added to eight ounces of water. It should help suppress your hunger so you eat a smaller meal.
This weight loss method has been around for many years. Apple Cider Vinegar is completely natural and it does contain B vitamins and amino acids. Furthermore, you can purchase this vinegar in common grocery stores and supermarkets, but read on…
Insufficient Evidence!
"We conducted some serious research and could not find any solid evidence that links the Apple Cider Vinegar Diet to fat loss or weight reduction. No clinical studies were found and there are certainly mixed dieter comments regarding this weight loss plan," says our Research Editor.
One person commented, "Did absolutely nothing."
Another dieter stated, "No weight loss at all, just diarrhea!"
Scroll below for one of the best products we've seen in 2015.
Dieter Complaints!
There are numerous complaints posted online concerning the Apple Cider Vinegar Diet. One individual commented, "It created heat within my system and messed up the skin on my face and gave me terrible melasma."
"Couldn't get past the horrible taste, heartburn, and being so thirsty. Also made me feel a little strange, kinda spacey," said another user.
According to our research, if there is some facet of a weight loss method or diet program that is very troublesome (a painful/difficult exercise routine, too many dieter
complaints, insufficient evidence) the likelihood of real weight loss success is slim. In other words, if the Apple Cider Vinegar Diet does lead to a high number of user complaints, this could be a deal breaker.
The Science
From what we gathered, there is no solid clinical trial research that supports the Apple Cider Vinegar Diet for weight loss. While this method may help elevate immune system health and regulate digestive function, it does not lead to fat loss. At DietSpotlight, we really prefer to see documented science that supports the claims concerning the diet method or weight loss product.
The Bottom Line
We are excited to see a totally natural approach to dieting and weight loss, but there is really not enough evidence to support the Apple Cider Vinegar Diet. This is one of those weight loss methods that's great in theory, but according to the dieter feedback we found online, it does not work as well as claimed. The reality is there is insufficient evidence to support the weight loss claims. Furthermore, there are dieter complaints regarding adverse effects and lack of real weight loss results.
Those who wish to see more substantial fat loss, we recommend you try a diet program or weight loss product that is supported by clinical trial results, has not caused dieter complaints and is safe for healthy weight reduction.
Among the finest weight loss products we've seen in 2015 is one called Leptigen. This supplement uses four proven ingredients, which have been shown in published scientific studies to increase metabolism and improve fat loss results. We can't locate any discussion of negative side effects and dieter feedback posted on the web shows people are seeing solid results.
Also, the makers of Leptigen are so confident in their product they're offering a Special Trial Offer, which is a good sign.