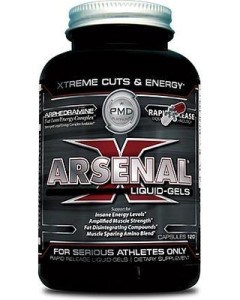 If you haven't looked carefully at Arsenal X, now's your chance. We spent some time creating one of our in-depth reviews, scrutinizing the ingredients, side effects, clinical studies and customer-service quality. Plus we scanned dozens of customer comments from the internet. Lastly, we summarized and compressed all of the facts and feedback we found to give you the bottom line.
EDITOR'S TIP:
Click here
to combine Arsenal X with a proven fat burner such as Leptigen for better results.
What is Arsenal X?
Firstly, Arsenal X is a diet supplement made by PMD Sports. It is available in liquid-gels capsules, which is a rapid release formula. This product is supposed to help fight fat, build lean muscle mass, increase energy levels and amplify muscle strength. It should be taken twice a day with food and 6-8 ounces of water (one capsule in the morning and afternoon). It contains Vitamin B6, Vitamin B12, Theobromine, Evodiamine, Synephrine, Ginger Root, Guggulsterones E&Z, Tyramine, L-Tyrosine, Rhodelia Rosea, Vinpocetine, Leucine, MCT Oil, Valine, BioPerine, Caffeine Anhydrous, Green Tea and Yohimbe.
Arsenal X has been available since at least 2010, and it's sold on the official website. This product contains some natural herbs and we found some positive user testimonials posted online, but read on…
Questionable Ingredients – "A Consideration?"
The first issue we came across pertains to Arsenal X ingredients. According to our Research Editor, "This formula contains a combination of Caffeine Anhydrous and Synephrine. When taken together, these two ingredients can increase your risk of side effects – some could affect the heart."
One user commented, "Every time I take this supplement, I feel like my heart is racing excessively, and like I'm short of breath."
"I tried two pills of Arsenal X in two days…After two hours I started feeling sick with nausea and my heart beats very fast," said another customer.
Scroll below for one of the best products we've seen over the last year.
Side Effects – "Another Concern!"
Some users have complained about Arsenal X side effects. One person stated, "I felt pressure right under my chest lower ribs and shortness of breath."
"I started feeling dizziness, sleepiness, and sometimes chest pains," another user revealed.
Our research has proven a connection between the small things, like racing heart, and a lesser chance of long-term results. If Arsenal X causes side effects, that's something the dieter will take into consideration.
The Science – "Any Validation?"
The company website for Arsenal X does not present any clinical research regarding this weight-loss supplement. This is unfortunate because we at DietSpotlight prefer to see some solid science that supports the product we are looking into. On the bright side, it does contain some beneficial ingredients such as Green Tea and Caffeine.
The Bottom Line – Does Arsenal X Work?
So, should you buy Arsenal X? First of all, it is good to see that this supplement contains some natural ingredients, but we are a bit concerned because it's not supported by any solid clinical research. Furthermore, it's clear that this weight-loss product may be associated with side effects.
If you'd like to drop more weight, then we suggest you choose a diet product that only uses clinically tested ingredients and is backed by plenty of positive customer reviews. Look for one with few, if any, side effects.
Among the best products we've seen in 2016 is one called Leptigen. It contains a proprietary blend of four unique ingredients, which have been scientifically tested and shown to help accelerate metabolism and speed up fat loss. We looked to see if anyone was complaining about side effects and we found very few. What we did read were tons of reviews from people who've lost weight.
The makers of Leptigen are so excited about their product they're offering a Special Trial Offer, which is very reassuring.