Updated: 09/29/2015 - Sponsored by Leptigen
As Slim As Possible Review - Does This Weight Loss Liquid Really Work?
Are fat price tag and dieter complaints deal breakers?
PUBLISHED: 09/09/2015 | BY: SUMMER BANKS, SENIOR REVIEWER
Editor
's Review:
3.5
/ 5.0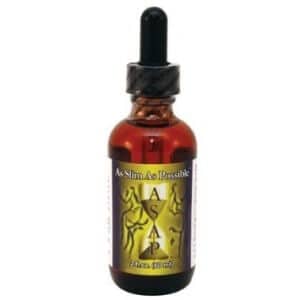 We've heard plenty of chatter about As Slim As Possible drops, so we decided to create an intense review, taking a close look at the side effects, ingredients, customer care and scientific research. Furthermore, we focused on countless dieter comments and reviews found on the internet. We then compressed all of the data and user feedback in order to give you the bottom line.
EDITOR'S TIP:
Combine As Slim As Possible with a proven fat burner such as
Leptigen
for better results.
What You Need To Know
As Slim As Possible is a weight loss formula brought to you by Youngevity, which is located in Chula Vista, CA. Also known as ASAP, this liquid is directed to be taken three times daily. Drops (.75ml) are dispensed under the tongue and left for five minutes to absorb (before swallowing). It's important to wait at least 15 minutes before eating or drinking. This supplement is intended to support the body's release of adipose fat cells, which are stored in the body. The ingredients used in As Slim As Possible are as follows; Resveratrol, Picamilon, Epimedium Extract, Tribulus Terrestris Extract, L-Glutamine, L-Carnitine, L-Arginine HCL, Vitamin B12 (100mcg), Vitamin B6 (10mg) and Niacin (15mg).
As Slim As Possible liquid has been around since 2012. This formula is available for purchase via the company website and there is a toll-free 1-800 number provided. Also, a complete ingredient label is presented on the website, which is helpful, but read on…
Fat Price Tag!
"The cost of a single bottle of As Slim As Possible is $89 (two fluid ounces), in addition to 8% for shipping and handling. Needless to say, this is a very expensive weight loss aid and it's certainly not affordable for some dieters," says our Research Editor.
According to one customer, "This product might work for some people but it was a total bust and waste of $90.00 for me."
"I cannot believe I wasted almost $100 on this product. It caused me to swell and become sensitive in my breasts, and I did not notice any changes or weight loss," said another user.
Scroll below for one of the best products we've seen in 2015.
Dieter Complaints – Be Cautious
We were able to find quite a few customer reviews for As Slim As Possible on dealer websites. One user stated, "Sorry to say it did not work for me, and I tried 2 bottles!"
Another commented, "I can not tell any difference at all."
According to our research, if there is a particular facet of a weight loss supplement or diet program that is especially burdensome (high cost, too many customer complaints, dangerous side effects) the real chances of prolonged fat loss are quite minimal. Therefore if As Slim As Possible liquid causes a high number of dieter complaints, this could be a very serious dilemma.
The Science
There is absolutely no clinical research provided to support the weight loss claims concerning As Slim As Possible liquid. Furthermore, this supplement contains fad diet ingredients such as Resveratrol, which are not proven to aid with weight reduction. At DietSpotlight, we must see actual documented science that proves the diet product is effective for weight loss or else we see a red flag.
The Bottom Line
There are so many weight loss products that are touted as powerful and very effective, but you really need to pay close attention to all of the details. As for As Slim As Possible, this supplement is really not supported by any clinical research or stellar customer reviews. Furthermore, it's pretty expensive at $89 a bottle, plus shipping and handling fees. After reading the customer responses online and taking a close look at the ingredients, we do not recommend this diet formula.
For those who need to shed pounds of fat at a faster rate, we advise you to choose a weight loss formula that contains clinically-proven ingredients and does not cost you an arm and a leg.
One of the most promising weight loss products we've come across in 2015 is Leptigen. This diet supplement uses four key ingredients that have been proven in documented scientific research to boost metabolism and encourage more fat loss. We have not discovered any discussion of harmful side effects and dieter reviews posted on the web reveal people are seeing notable results.
Also, the makers of Leptigen are so confident in their product they're offering a special trial offer, which is a good sign.