Asia Black Review
Editor
's Review:
3.5
/ 5.0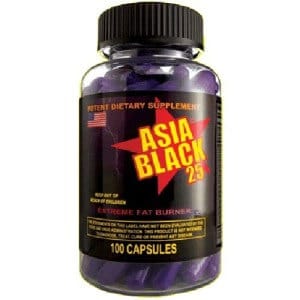 We've heard a lot of talk about Asia Black fat-burner capsules, so we did one of our in-depth reviews, focusing closely on the side effects, ingredients, scientific studies and level of customer service. Furthermore, we scrutinized dozens of customer comments and user reviews found online. At this point we summarized all the facts and specifics to give you the info you need.
What You Need To Know
Asia Black is advertised as an "Ephedra" fat-burning stack. Although this supplement retails for $79.95 per bottle, it can be found online for $26.95. In order to use this product, you need to take one capsule after each meal (no more than three per day). Asia Black is claimed to increase metabolism, suppress appetite, boost energy levels and encourage fast weight loss. As for the ingredients used in this supplement, they include; African Kola Nut Extract, N-Acetyl L-Carnitine, L-Tyrosine, Yerba Mate, Evodia Fructus, Zingiber Officanalis Root, Bladderwrack, Panax Ginseng, Green Tea, Yohimbe Extract, Cayenne Pepper, Citrus Aurantium, Paulina Cupana Extract, Caffeine Anhydrous, White Willow Bark, Chromium, Vitamin B12, Vitamin B6 and Ephedra Nevadensis Powder.
Asia Black 25 has been around since 2013 and is easy to purchase online. This product does contain some natural plant extracts and it is available at discounted rates, but read on…
Dangerous Ingredients – Be Cautious!
According to our Research Editor, "Asia Black capsules contain potent stimulants such as Ephedra and Synephrine, which have been shown to cause serious side effects. In fact, these ingredients can lead to heart palpitations, shakiness, high blood pressure, stroke and heart attack."
One customer commented, "Wasn't Ephedra banned for a good reason?"
Another dieter stated, "These pills are no good, don't buy them !!!!!!"
Side Effects – Watch Out
There are some serious side effects that can occur while taking Asia Black. In fact, one user said, "Makes me extremely jittery."
According to another customer, "These pills will give you the shakes and leave you feeling anxious as crap."
Our research has shown if there is a certain facet of a fat-loss supplement or diet program that is significantly troublesome (serious side effects, terrible taste, dangerous ingredients) the odds of lasting weight loss success is minimal. In other words if Asia Black capsules do lead to adverse effects in numerous people, this could definitely be a big problem.
The Science
After doing some serious searching, we were unable to locate any published clinical studies that support Asia Black capsules. While this supplement does contain some powerful stimulants, we at DietSpotlight need to see documented science that supports the supplement's effects on weight loss. In this case, we only see dangerous ingredients.
The Bottom Line
We couldn't help but notice the extensive warning on the Asia Black bottle. This in itself is a red flag. It's clear that these fat-burner capsules contain some potent stimulants that can lead to serious side effects. Keep in mind that Ephedra was banned in the US. In short, we feel that there are safer weight loss products and programs to consider.
If you need to slim down faster, we encourage you to choose a weight loss formula that is backed by real clinical research, contains safe ingredients and is supported by positive user reviews.
One of the most promising products we've seen in 2015 is Leptigen. This weight loss pill uses a proprietary blend of four proven ingredients, which have been shown in documented scientific research to increase fat loss and ignite metabolism. At this point, we haven't found any talk of negative side effects and customer feedback around the web reveals people are seeing solid results.
Also, the makers of Leptigen are so confident in their product they're offering a Special Trial Offer, which is a good sign.
GD Star Rating
loading...