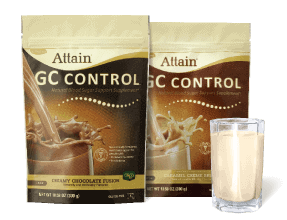 Give me just two minutes of your time and I'll tell you whether or not Attain is worth a try. We conducted one of our in-depth product reviews and looked at the side effects, ingredients, clinical research, and customer service. We also looked at comments online. Then, we condensed what we found to give you the bottom line.
What is Attain?
First off, Attain is a protein supplement that is not meant to be a meal replacement. Each shake or bar contains whey protein, barley fiber, oat, and other proteins. The bars are 160 calories with 7 grams of fat, 4.5 grams of saturated fat, 23 grams of carbs, and 10 grams of protein. The shakes have 120 calories with 3 grams of fat, 14 grams of carbs, and 10 grams of protein. These are meant to suppress hunger between meals for those who workout regularly.
Attain is produced by Melaleuca, which has been around since 1985. These shakes are available through their official website, and a few other online retailers, but they're not in stores. We like the longevity of the company, the convenience, and the variety of products available, but read on…
Price – "Adds up Quickly"
Our first concern immediately apparent was the high cost of Attain products. "These may work to minimize hunger between meals, but it will cost you," said our Research Editor. "If you consume just one bar and one shake per day, the monthly cost can be up to $150."
"These are nice once in a while, but the cost adds up quickly," said one user.
"These do help between meals, but at that price I need a meal replacement," offered another.
Scroll below for one of the best products we've seen over the last year.
Consistency – "Another Concern"
One thing you have to look at when reviewing protein products is how the dieter reacts to taste and consistency. There were several comments about Attain ingredients. "The bars were too hard to eat and my jaw hurts by the time I'm done chewing each one," said one customer.
"The shake doesn't mix well which leaves it with an unappealing consistency," said another.
As we've reviewed diet products, our research has shown that when a particular aspect is bothersome (painful workout routine, pills with side effects, high cost, etc.), the likelihood of sustained weight-loss is slim. If Attain really does taste bad and have a bad consistency to many dieters, this could make it difficult to achieve your goals.
The Science – "Validated?"
We were able to find a few scientific studies showing that whey protein is effective for suppressing appetite and minimizing hunger, but we couldn't find anything specific regarding Attain and its ability to help dieters lose weight by burning fat and boosting metabolism. From what we can tell through published research, these types of shakes are geared more toward those looking to build muscle rather than those looking to lose weight. At DietSpotlight, we value science, and with no unbiased proof, we see major red flags.
The Bottom Line – Does Attain Work?
Did we already place our order for this one? We were excited about what Attain had to offer with its variety of shakes and protein bars as well as their longevity as a company; however, without published studies, we are skeptical about recommending this to our readers. We're also concerned about the unappetizing taste, the high cost, and the inability to use this as a meal replacement.
If you're looking to get to your goal weight, we suggest you go with a diet supplement that offers fat burning ingredients and clinical testing backing up its weight-loss claims.
Among the best products we've seen in 2016 is one called Leptigen. The ingredients have been featured in clinical tests and are shown to help the dieter lose weight by boosting metabolism and increasing fat loss. We're thrilled to have found tons of customer reviews talking about some amazing experiences.
The makers of Leptigen are even offering a Special Trial Offer for those that are looking to try their product for the first time.