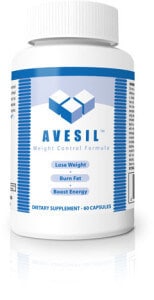 Don't laugh, but well over 50% of diet products simply don't work. So what about Avesil? We at DietSpotlight conducted a thorough review, investigating the ingredients, side effects, clinical research and overall customer service. We additionally looked at countless dieter comments and user reviews from all over the web. Finally, we compressed all of the facts and feedback we collected to give you the important information you actually need.
EDITOR'S TIP:
Substitute Avesil with a proven fat burner such as
Leptigen
for better results.
What You Need To Know
First off, Avesil is marketed as a fast and safe weight loss formula for women and men. This supplement assists by reducing appetite, boosting energy levels and burning off unwanted body fat. It contains four key ingredients, which include Meratrim (400mg), Green Tea Extract (200mg), Chromium (100mcg) and Natural Caffeine (75mg). This product aims to boost thermogenesis so your body burns off more calories and fat. One capsule of Avesil is a serving, and this product can be taken twice daily, 30 minutes before meals for maximum results. While it is not mandatory with Avesil, you will see better weight loss results if you follow a healthy diet plan and exercise at least three times a week.
Avesil was originally released back in 2008, and this supplement is readily available online through the official website and on Amazon. Furthermore, you can receive a 14-day trial of Avesil for only $5.95 if you fill out your name and address on the official website, but read on…
Mild Side Effects – A Consideration?
According to our Research Editor, "There have been a few minor complaints about mild side effects from Avesil. For instance, some users mentioned stomachache, nausea and intestinal discomfort."
"It seems to work, but it gave me a slight tummy ache," said one user.
Another customer commented, "Definitely reduces my appetite, but causes a bit of nausea as well."
Scroll below for one of the best products we've seen over the last year.
Lack of Availability in Stores!
Some dieters will be disappointed that Avesil is not sold in stores. It must be obtained online. One person stated, "It would be nice to see this product available in drugstores, but it's apparently only sold on Amazon."
"You have to buy Avesil online, which is kind of disappointing. I prefer when products are available locally," mentioned another individual.
The extensive research we've done has shown if there is a certain facet of a diet program or weight loss product that is quite concerning or bothersome (mild side effects, lack of availability, bad taste) the probability of lasting weight loss results is low. In other words, if the fact that Avesil is not readily available in stores does bother a lot of people, this could be a real problem.
Is There Any Solid Science?
At DietSpotlight, we need to see some real clinical research that supports the weight loss product and the ingredients it contains. Fortunately there are some solid clinical studies that support the weight loss claims regarding Avesil. The four key ingredients used in this product are backed by valid clinical studies, which is certainly reassuring.
The Bottom Line: Does Avesil Work?
So, should you buy Avesil? Well, first and foremost, we appreciate that Avesil contains clinically proven ingredients that are completely natural. On the other hand, it's unfortunate that this weight loss formula is not readily available in stores. Then again, we like that Avesil is suitable for women and men trying to lose weight, and it's easy to find on major websites such as Amazon. There are even some customer testimonials posted on the official website.
If you'd like to get rid of some serious pounds, then we suggest you go with a diet product that is backed by solid clinical research, does not cause any harsh side effects, is easy to use anywhere and comes with great customer service.
Among the best products we've seen in 2015 is one called Leptigen. Its formula is a unique but powerful blend of four key ingredients that have been proven in published clinical research to help ignite metabolism and speed up fat loss. You should also be aware that we can't find any complaints of harmful side effects and the customer feedback posted on the web indicates people are seeing solid results.
The makers of Leptigen are so satisfied with their product they're offering a Special Trial Offer, which is a good sign.