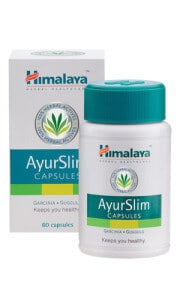 As you may know, there's been plenty of buzz about Ayurslim capsules for weight loss, so we created a comprehensive review, examining the side effects, ingredients, level of customer service and scientific studies. We additionally scrutinized all sorts of dieter comments and user reviews we found on the internet. At this point we condensed all the facts and details to give you the important info you actually need.
EDITOR'S TIP:
Combine Ayurslim with a proven fat burner such as
Leptigen
for better results.
What You Need To Know
Ayurslim is made by Himalaya Wellness, which is a company that dates back to 1930. This supplement is claimed to burn off fat, reduce triglyceride and cholesterol levels, minimize sugar cravings, enhance metabolism and neutralize excess sugar in the body. This supplement also aims to reduce the production of fatty acids in the liver and muscles. You are encouraged to take Ayurslim for at least six months. The dosage is two capsules, twice a day after meals. The key ingredients used in this supplement are as follows; Trigonella Foenum-Graecum (Fenugreek), Terminalia Chebula, Gymnema Sylvestre, Balsamodendron Mukul and Garcinia Cambogia (contains Hydroxycitric Acid).
It looks like Ayurslim was released back in 2010. This weight loss formula can be purchased conveniently via Amazon for $6.99 (60 capsules) and some customer feedback is provided. Also, the ingredients used in this supplement are natural, but read on…
Fad Weight Loss Ingredients
According to our Research Editor, "Ayurslim relies on fad diet ingredients such as Garcinia Cambogia, which is an Asian fruit extract that has not been proven to help with weight loss."
One user stated, "I have used a full month and there was no reduction in my weight."
Another dieter said, "Hey no change, even after completing 3 three bottles of Ayurslim."
Scroll below for one of the best products we've seen in 2015.
Too Many Customer Complaints
We've noticed plenty of negative user reviews posted online for this diet product. One customer said, "I've been taking this for almost a month now with no significant results. I am generally a small eater and my goal is to reduce only 5 KG's. However, I seemed to have gained 1 kg instead of loosing it."
"If I could I would give a negative rating. Please do not use these pills. Once you start using from the next hour you will start feeling very giddy and feel like vomiting, and
4 tabs per day makes it worse. Also I have a reaction on my face and neck. Got rash and pimples because of this product," said another user.
Our research has proven that if there is one facet of a diet pill or weight loss system that is very troublesome (too many user complaints, fad diet ingredients, a very difficult exercise) the probability of long-term weight loss is quite low. This means if Ayurslim does result in countless customer complaints, this could definitely prove to be a serious issue.
The Science
First of all, the ingredients used in Ayurslim capsules are posted and explained on the official website. While this is great, there is no actual clinical trial research presented to support these ingredients for weight loss purposes. Therefore we at DietSpotlight cannot get behind Ayurslim, because we need to see published science that backs up the weight reduction claims.
The Bottom Line
While we appreciate that Ayurslim uses 100% natural ingredients, we could not find any documented proof that this supplement actually aids with fat loss or weight reduction. In fact, we did not even find a return policy posted on the official website. From what we gathered, many people who have tried Ayurslim capsules have complained that it does not work as claimed. It's wise to consider other weight loss products that are backed by real studies.
If you want to see faster weight loss results, we advise you to try a safe diet supplement that is supported by real clinical studies, does not contain fad diet ingredients and is also backed by positive user reviews.
Among the most impressive weight loss products we've come across in 2015 is one called Leptigen.It contains a unique blend of four key ingredients, which have been shown in documented scientific studies to help elevate metabolism and encourage more fat loss. We have not discovered any complaints of unpleasant side effects and dieter reviews posted on the internet reveal people are seeing substantial results.
Also, the makers of Leptigen are so confident in their product they're offering a Special Trial Offer, which is a good sign.